Dust Devils capitalize on Hawks' errors in comeback win
Posted:
Updated: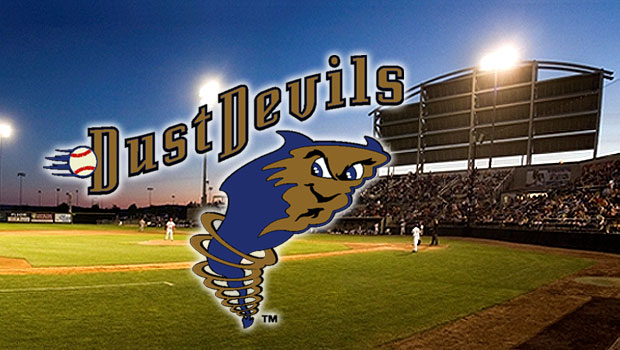 From Tri-City Dust Devils
The Tri-City Dust Devils used a three run eighth inning to take down the Boise Hawks 6-3 Monday night at Gesa Stadium.
The Dust Devils (10-15 Second Half, 29-34 Overall) offense got some help from untimely errors by the Hawks (14-11, 35-28) defense. Tri-City's first three runs were all unearned, and those runs allowed the Dust Devils to go into the late innings tied 3-3.
In the bottom of the eighth, the Dust Devils took the lead. Ashley Graeter and Alec Mehrten each had RBI singles, and Wilson Soriano drove in Graeter on a sacrifice fly to make it 6-3 Dust Devils.
Jerad McCrummen came on to pitch the ninth inning for Tri-City and retired the Hawks hitters in order to get the save, his second of the year. McCrummen struck out two of the three batters he faced in a perfect inning.
Dust Devils catcher Chris O'Dowd, the Papa John's Hit Man of the game, went 1-for-3 with an RBI. Since he recorded a hit everyone can head to papajohns.com and type in promo code "dustdevils" where you can buy any pizza and receive a second pizza of equal or lesser value for free. This promo code is valid tomorrow only, Tuesday, August 20th, at all Tri-City locations.
Tri-City right-hander Logan Norris battled through six deceptively good innings and left the game with the score tied at three. He left the game with three runs charged to him on five hits. He struck out three and walked one in a no-decision.
Jonathan Vargas (2-2) got the win for the Dust Devils. He was magnificent in his two perfect innings of work, striking out three Boise batters.
Hawks starter Duane Underwood pitched well in his 4 1/3 innings. He was plagued by the errors behind him as three runs were scored while he was in the game. None of those runs were earned. Underwood only allowed two hits while walking three and striking out a batter. Scott Frazier (1-2) would take the loss for Boise.