Active Shooter Training At Cheney Middle School: 'You Don't Want Anyone Else To Die'
Posted:
Updated: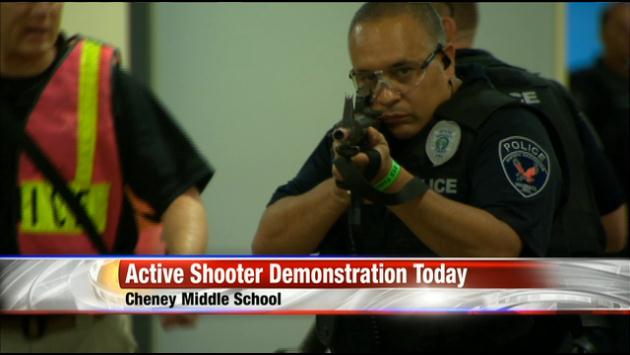 CHENEY, Wash. -
Surrounded by crime tape, dozens of police officers from all over the area descended on Cheney Middle School Wednesday afternoon – but it was all for practice.
The federal Clery Act mandates active-shooter and mass casualty trainings like this at colleges and universities across the country. Wednesday's is the 6th annual organized by the Eastern Washington University Police department, and brought together Cheney Police, Washington State Patrol, the Spokane County Sheriff's Office, airport officers, paramedics and others.
Officers went through four stations including in a hallway and on a school bus, practicing speed, learning tactics and building teams. Then later in the day, they went through a scenario as close to real-life as possible, including volunteer students, teachers and a "shooter."
"It's their success, their safety and the safety of everybody else in the building that we understand how to operate," Deputy Chief of EWU Police Gary Gasseling said. "It's what we train for. We always train for that worst case scenario, and hope for the best outcome."
Officers had to check their real weapons at the door and used air-soft guns during the exercise, which began around noon and was expected to last until around 9:00 p.m. It's tough physical work – but it can be emotional as well.
"It really tugs at your heartstrings, because you want to get there and stop it, you want to get there now, you don't want anyone else to die, you don't want anyone else to get hurt," Gasseling said.
Practicing in a school is a scenario that has unfortunately become a necessity, in the wake of national tragedies that unfolded at Columbine, Virginia Tech, Newtown – and just Tuesday in Georgia, where a shooter in an elementary school had nearly 500 rounds of ammunition, but was arrested before anyone was hurt.
"Whenever there are children involved, police officers – while we try to be tough and macho –we're human beings, and all this really hits close to home," Gasseling explained. "[The mindset is], 'I need to be prepared because what if that's my kid's school, what would I do if it was?'"