Everett Takes Two in Double-Header with Tri-City
Posted:
Updated: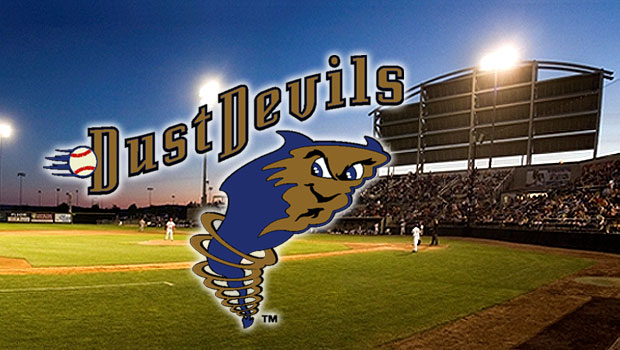 From Tri-City Dust Devils
The Everett AquaSox needed a six-run 12th inning in the second game of a double-header to complete a sweep of the Tri-City Dust Devils by the scores of 4-0 and 7-1 Monday night at Gesa Stadium.
Tri-City (12-20 Second Half, 31-39 Overall) was only able to muster one run over the 19 innings of baseball between the two games.
Tri-City right-hander Johendi Jiminian (3-4) took the loss in the first game of the double-header, giving up four runs on seven hits over six innings on the bump. Shawn Stuart (3-2) would take the loss in game two for the Dust Devils.
AquaSox (18-14, 41-29) southpaw Nate Koneski (2-1) was nearly unhittable in the first game of the day, allowing just two hits over his five innings. He did allow five walks and struck out two in a winning effort. Richard White (3-2) would get the win in game two for Everett.
The Papa John's Hit Men of the double-header did not get a hit Monday night. Despite the fact that they were unable to record a hit, Papa Johns decided that everyone can head to papajohns.com and type in promo code "dustdevils", where you can buy any pizza and receive a second pizza of equal or lesser value for free. This promo code is valid tomorrow only, Tuesday August 27th, at all Tri-City locations. Thank you, Papa Johns!
The Northwest League will have a day off Tuesday. The Dust Devils will return to action on Wednesday for the start of a three game series in Vancouver, BC against the Canadians.