KPD Daily Briefing: Wednesday, August 28, 2013
Posted:
Updated: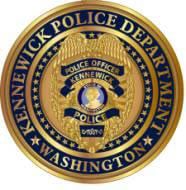 Wednesday, August 28, 2013

A-Shift

Graffiti/ 500 blk N Edison St- The apartment manager reported finding graffiti on one of
the fences in the complex. An unknown suspect used black and blue paint. The
apartment manager advised they would handle the clean up.
Suicide Attempt/100 blk E 1stAve-Officers responded to this residence in reference to a
suicidal male. He was upset and cut his wrist with a razor blade. He advised that he was
upset due to his son molesting his daughter. Transported to KGH where he was
evaluated by Crisis Response.
Theft/1500 blk SOak St-Officer Valdez contacted complainantregarding a theft of a
Honda generator. He had competed in a cook off and then looked around the fair. He
left his generator unattended and unsecured during this time; when he returned the
generator was gone.
C-Shift

Assault DV/600 blk N Columbia Center Blvd-Officers responded for a reported physical
domestic during which a male was seen striking a female in the face. Officers located the female who advised she had been in an argument with her boyfriend and father of
her child, and he hit her in the face. She pointed out that the sunglasses she was
wearing when she was hit cut her. He had left on foot was contacted across the street
and detained. He admitted to striking herin the face, stating that the argument was a
result of her getting mad at him because he would not get her marihuana. He stated
when he told her no, she was going to prevent him from seeing their child, and she
attempted to hit him. He was booked and No Contact Order Issued.
Order Violation/1300 blkN Dawes- Complainant has continual issues with her neighbor
using racial names and yelling at her and her children. Today she reported that he again
yelled racial slurs at one of her children as they were walking home. There is a court
order against the male and an uninvolved neighbor witnessed the incident. The male
was contacted and advised that he does not use racial slurs anymore and instead uses
similarsounding words. He was arrested and booked for order violation.

DUI/7th & Vancouver- CAT stopped a vehicle traveling 40 in a 25 and contacted the
driver who identified himself. Det Dorame knew the subject to be using a false name,
his brother's. The malewas found to have a DOC warrant and was also found to be DUI.
Officer Santoy completed the DUI investigation and booked the suspect after obtaining
a search warrantfor blood. Suspect was booked for DUI, DWLS 3rd Degree, Operating a
Motor Vehicle withoutIgnition Interlock, False Reporting 2nd Degree and his no bail
felony DOC warrant. He was also issued infractions for Defective Tail Lamps and
Operating a Motor Vehicle withoutInsurance.

Welfare Check/600 blk W Kennewick- After Complainant called to check on the welfare
of his 5 year old son and 2 ½year old daughter. It was determined that the children,
currently living with their uncle, were in danger. The check revealed that the children
have not been getting regular meals over the past 2 weeks, and have been getting left
with their 12 year old cousin while their uncle works. The children's mother is said to
have abandoned the children while she drinks, uses drugs and parties. CPS responded
and took custody of the children.
If you have information pertaining to any of the crimes reported in the
Briefing, contact Kennewick Police at (509) 582-1351 or Tri Cities Crime
Stoppers at (509) 586-8477/ (800) 222-TIPS or
www.tricitiescrimestoppers.org