KPD Daily Briefing: Sunday, September 15, 2013
Posted:
Updated: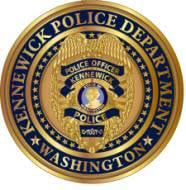 Sunday, September 15, 2013

D-Shift

Malicious Mischief/400 blk S Quincy St- Complainant advised someone threw a large
rock through his front living room window. No suspects.
Runaway Arrested on Warrants/200 blk E Columbia Dr-Officer Meyer located runaway
female. She was arrested on an outstanding warrant and transported and booked into
juvenile. Runway and warrant cleared.

Arson/1500 blk W 40th Pl-Det E Hanson called in a suspicious fire in the back yard of the
location. The home at this address is a bank repo and is unoccupied. The back yard of this home is full of dried weeds and tumbleweeds as high as 3 feet. Det Hanson realized
it was not a BBQ but a brush fire that was already burning the fence of the residence to
the north. Hanson using the garden hose of the neighbor's house jumped the fence and
used the hose to prevent the fire from spreading any further. KFD crews upon arrival
took over. Sgt Genack also responded and with the KFD Engine Captain examined the
scene. It appears a pile of tumbleweeds that were either naturally or purposely piled up
on the rear north cement patio; against the north side of the fence was the origin of the
fire. Sgt Genack and KFD contacted several neighbors and no one saw any one in the
back yard. There was a red empty gas can sitting on the front porch of the unoccupied
victim home but it had been there quite awhile according to the neighbor. No suspect
info at this time.
Assault DV & Warrant Arrest/600 blk S Buntin St-Officers Davis, Pitts, Valdez and Sgt
Genack responded to a report of a brother/sister DV Assault in progress. Upon our
arrival the suspect, a 30 year old male, ran back into the house and locked the door. The
victim, his sister, 32, advised her intoxicated brother assaulted her again during an
argument. She had several visible bruises and marks on her chest and arms. A records
check showed he had several outstanding warrants for his arrest reference DV Assault
incidents. Officer Davis and Sgt Genack tried for 20 minutes to getthe male to come
outside. His sister called her father who arrived with a spare key. She gave Officers Davis
and Valdez permission to enter her home. The male reportedly was only staying there
temporarily because he is homeless. Using the keys to open the front door the suspect
tried to slam the door shut of officers, but he was unsuccessful and was taken into
custody without incident and injury. He was cleared by KGH, due to intoxication and
booked into jail for DV and warrants and a No contact order was placed.

B Squad

Field Arrest/400 blk S Olympia- Last night Officer Peterson assisted CAT arrest a male at
the above location. While he was being arrested a female arrived. Patrol did a warrants
check on her and she also had a warrant. She was arrested by Officer Peterson and
booked at the BCSO Jail.

Fire Investigation/500 blk N Volland- This location has been posted several times and is
currently posted. There is no electricity at the location. KPD interviewed neighbors who
said they saw the owner's vehicle at the location around 1800 hours. The owner said he
was last there at 0800 hours. Kennewick Fire said the fire started as a slow smoldering
fire. KFD said they have a concern that there is no electricity at the location to start a
fire. Patrol posted an officer at the location to keep it secure until daylight and the
investigators can search for the fire's source.

Malicious Mischief/1300 blk N Edison- Complainant reported that two, "tweakers"
came to the door and said they were friends of another resident that was not home and
asked to stay the night. He refused. As they left one broke a window in the residence.
Domestic Disturbance/7700 blk W 4thAve-Officer Hanson responded at about 0100
hours. Complainant reported that her ex-boyfriend keeps knocking on her window and is
constantly texting her. She said they broke up and he moved all his stuff out. She does
not want him around but cannot afford an order. She was told of options to help with
the cost of an order. He attempted to leave the area as officers arrived and he was
contacted. A trespass form was completed and given to the male.

Malicious Mischief/5600 blk W Canal Dr- Complainant reported that an unknown
suspect jumped on his vehicle and smashed the windshield.

DUI/100 blk S Gum- Male was stopped for a burned out headlight and erratic lane
travel. He is required to have an ignition interlock and was intoxicated. He is also
suspended in the third degree. He was arrested for DUI and charged with No interlock
and DWLS 3rdDegree. His breath results were .165 and .165.

Vehicle Prowl/Center Parkway & Gage- Complainant reported that an unknown
suspect entered his unlocked vehicle and took his GPS unit and I-phone charger.

Assault DV/6700 blk W Kennewick Ave- Complainant was in Benton City and reported
that she was hit in the face and pushed into a wall while holding her baby. She said the
male was arguing with about feeding the baby. She would not return to Kennewick to
make a report. Deputy Surplus assisted by contacting her in Benton City. Deputy
Surplus reported there is PC to arrest the suspect. He was contacted, arrested and
booked for Assault DV.

If you have information pertaining to any of the crimes reported in the
Briefing, contact Kennewick Police at (509) 582-1351 or Tri Cities Crime
Stoppers at (509) 586-8477/ (800) 222-TIPS or
www.tricitiescrimestoppers.org