KPD Daily Briefing: Monday, September 16, 2013
Posted:
Updated: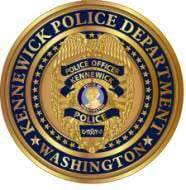 Monday, September 16, 2013
C-Shift

Suspicious Circumstances/Kennewick-Officers responded to several instances of a male
caller that placed calls to five Kennewick businesses. During the calls, the subject
instructed the employee to do exactly as he said, if they did not, he would send his
partner, waiting just down the street to harm them. The number the calls came from
was the same. This is a generic number generated for all calls that originate from
Google Chat. No leads or suspects at this time. Linked to investigations for information.

Burglary/1100 blk S Jefferson Pl- Sometime during the night, an unknown suspect
entered the garage that was left open and stole 5 bottles of Alcohol, ½rack of beer, a
cordless drill and electric scooter. The suspect also glued the interior garage door to the
residence shut. All property was located on the sidewalk about a block away.

Weapons/Arthur & Metaline-Officers responded to Kamiakin for a report of a male
subject who was said to have been stabbed. While responding, KFD Medics advised that
they had located the victim male at Arthur and Metaline, the male was not cooperative
and fled through the field. The male was located a short time later in the 1100 blk of N
Buchannan. He was clearly under the influence of methamphetamine and was found to
be armed with a large knife. As a result of the investigation, it was discovered there had
been no incident on School District property, and it looked as if he had cut/scratched
himself several times with his knife. When asked he stated he had the knife for
protection. He was arrested for Possession of a Dangerous Weapon, cleared at KGH and
Booked. Staff at Kamiakin was contacted during the incident and advised of final
disposition.

Vehicle Theft/1100 blk N Cleveland St- Complainant reported that he woke this
morning to find, the keys to his 1997 turquoise Buick Lasabre (WA AHE1283) were
missing. He looked outside and viewed that his Buick was gone. He suspects his 15 Year
old granddaughter who lives with him is responsible for the theft but can't be sure. He
states his granddaughter is addicted to methamphetamine was gone this morning when
he noticed the vehicle missing. Vehicle listed in ACCESS as stolen.
Vehicle Prowl/1200 blk S Kellogg- Complainant reported she found that an unknown
subject entered both of her vehicles that were unlocked and in front of her residence.
Nothing was observed to have been stolen, no leads or suspects.

Theft from Vehicle/700 blk N Center Pkwy- Complainant reported sometime between
the 13th and 0900 this morning an unknown suspect entered her 2012 gold Buick Le
Sabre and stole her GPS, (Unknown Make), and USB adaptor. No leads or suspects.

Assault DV/400 blk S Olympia-Officers responded after complainant reported that her
twin sister had just assaulted her and left the area in a pink Chevrolet Blazer. The
complainant had visible signs of having been assaulted, stated the incident started after
she would not allow her sister to use her makeup. Suspect was not located. Criminal
citation sent to the City Attorney`s Office for charges of Assault 4 DV, Interfering with
Reporting of DV and Destruction of Property under $100.

Vehicle Prowl/5900 blk W 16th-Complainant reported sometime after 1800 hrs on the
15th an unknown suspect entered her vehicle and stole, her GPS system and a Sprint cell
phone charger. No leads or suspects.

Arson/4400 blk S Palouse- Contractor arrived at his construction site to find numerous
areas where it appears that an unknown suspect attempted to set, the residence under
construction, on fire. Several burn marks on the subfloor were located as well as
burned plumbing that caused a pipe to rupture putting the fire out. No leads or
suspects at this time.

Theft/4100 blk W Clearwater Ave- Male was arrested after walking behind the bar and
taking about $40.00 from the tip jar. The theft was caught on tape. At the time of the
incident, he was with his sister and mother but they were not involved. He was arrested
and booked at the BCSO Jail.

Suspicious Circumstance/1000 blk W 14th Pl- Complainant reported his 9-year-old son
stayed home from school sick. At about 1500 hours he saw a black male (20-30-yearsold, large afro hair cut, 300 pounds, wearing a light green shirt) looking in the front
window. The black male then rang the front door bell repeatedly. As the black male
looked back in the window, he saw the 9 year old. The black male ran into the backyard
and jumped the fence.

A-Shift

Theft/800 blk W Entiat Ave- Complainant reported that his prescriptions stolen. He
advised that he was allowing two subjects to stay at the residence. He had asked one of
the subjects asked numerous times if she could have some of his medications as she was
attempting to quit heroin. That subject left the residence this morning and when he returned this evening he found the medications gone. Both of the subjects were also
gone. Investigation pending contact with the two.

Suspicious Fire/1900 blk W 25th Ct- KPD and KFD responded to this residence for a
structure fire. Neighbors reported seeing smoke and flames coming from the garage.
KFD entered the garage and quickly extinguished a small fire in the corner. The
residence is currently under construction and is almost finished. The back man door to
the garage was unlocked. The BC advised the fire appeared to be suspicious and
contacted Fire Marshall Yaden. Yaden advised that he would inspect the scene in the
morning. Initial report and area canvass was completed. Report forwarded to
Investigations.

Assault DV/300 blk N Johnson St-Officer Duty responded in reference to an assault DV.
Complainant reported that she and her boyfriend had been arguing over his recent
arrest and her wanting to leave him. During the argument he began walking out of the
room with complainant's daughter. Her 5 year old son attempted to follow her
boyfriend who kicked the 5 year old in the legs and hit him on the head. He was
arrested and booked for assault 4thDV and a no contact order was issued.

Weapons/1300 blk N Dawes St-Officer Todd responded in reference to an earlier
incident of a male walking around his yard with a machete. Upon arrival Officer Todd
contacted the reporting party and two witnesses who reported a male was walking
around the yard yelling obscenities and threatening them. They reported he did not
display the machete in a threatening manner nor did he come off his property. Officer
Todd contacted the on call Prosecutor who advised to charge the male with displaying a
weapon. Contact was attempted at the residence but no one answered. Officer Todd
was unable to contact the suspect so a criminal citation has been mailed.