Hermiston Police Department: Interagency Cooperation
Posted:
Updated: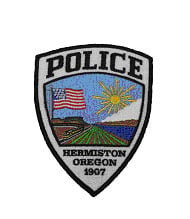 Interagency Cooperation
On the 18th of September 2013, at approximately 10:13 AM, the Hermiston Police Department received a call from the Umatilla County Sheriff's Office dispatch center, making us aware of (2) males that tried to pawn/sell questionable items in Pendleton.
Alert Hermiston officers called our local pawn shop to advise of the description provided to us (white male adult, 5'10"-6', freckles, short red hair similar to military high and tight left the store possibly headed towards Hermiston in a white van with unknown Colorado plates). Ironically, the male was inside the store, so our officers responded to Columbia Outdoor located at 395 E. Main Street.
Officers detained two males who were in possession of tools (air compressor, grinder, sander, etc.), a gold watch, and a camera. Investigation revealed the vehicle the pair was using, was stolen out of Colorado.
Officers arrested Trevor A. Smith, 25 years of age, of 445 Ranny Street, Craig, Colorado and Johnathan R. Haines, 30 years of age, of 3108 Alder Street, LaGrande, Oregon.
Smith was charged with Possession of a Stolen Vehicle and had (2) out of state arrest warrants. Haines was charged with Unauthorized Use of a Motor Vehicle. Both were lodged at the Umatilla County Jail in Pendleton.
The investigation is continuing so we can ascertain if the property the duo was trying to pawn is/was stolen.
"This is a great example of interagency cooperation involving the dispatch center. Once our computer aided dispatch system and records management system is implemented in the two county region, it will be possible for officers to send car to car messages to each other which will greatly enhance the flow of information from one agency to another."
Chief Jason Edmiston