Yakima Police Department: Assault 1st Degree
Posted:
Updated: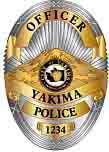 Yakima Police Department
Date Occurred: September 18th, 2013 Time Occurred: 1418 hours

Incident Type: Assault 1st Degree
Location: 2400 S 1st St.
Investigating Agency: Yakima Police Department
Suspect: H/M, 39 years of age
Victim: W/M, 31 years of age
Summary:
On 9/18/13 at about 1418 hours Yakima police officers were dispatched to the 2400 block of S. 1st St for a reported assault with a knife. Officers from several different Yakima valley law enforcement agencies were nearby and also responded. The possible suspect was located in the Top Foods parking lot by a YSO deputy and a UGPD officer. The 39 YOA suspect was detained pending further investigation.
The 31 YOA victim was located at a bus stop in the 2400 Blk of S. 1st St. The victim had a stab wound to his right arm. He was transported to a local hospital for treatment. The wound is not considered life threatening at this time.
The investigation revealed that the victim had been sitting at the bus bench when the suspect approached him and made a nonsensical comment to him. The suspect then removed a knife from his pocket and brandished it towards the victim. The victim was able to disarm the suspect, and the 2 subjects wrestled on the ground. The suspect obtained the knife again and stabbed the victim in the right arm. The suspect fled on foot and was subsequently detained by officers at the Top Foods parking lot.
Following an investigation, the suspect was booked at the county jail for investigation of Assault 1st Degree.
Yakima police detectives are conducting the follow-up investigation. Anyone with information related to this case is encouraged to call 575-6200 or 911 (after hours).
Sgt. Tim Bardwell YPD case # 13Y039981