Explosions And Gunfire Erupt As Kenyans Battle To End Hostage Crisis At Mall
Posted:
Updated: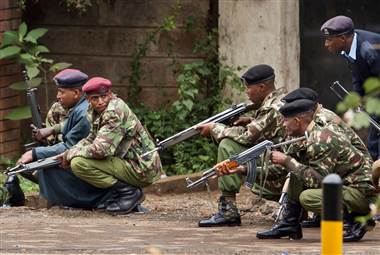 Ben Curtis / AP
NBCNEWS.COM - Extended gunfire and at least seven large explosions resounded Monday at an upscale shopping mall in Kenya where heavily armed militants were still believed to be holding hostages on the third day of a standoff that has left at least 62 people dead.
A column of thick, black smoke rose from the mall. Kenyan authorities, who vowed the night before to end the siege, said that they had the gunmen and hostages confined to one section of the shopping center.
David Kimaiyo, the inspector general of the Kenyan police, said on Twitter early Monday that more hostages had been rescued and that authorities were "increasingly gaining advantage of the attackers."
Details were hard to come by, but there were believed to be 10 to 15 militants still in the mall, and 10 to 15 hostages.
A Kenyan security source told NBC News that a military operation had blown an opening in the back of the mall, partly as a diversionary tactic. At least some of the gunfire was believed intended to scatter crowds around the mall.
The explosions and a burst of gunfire were heard at about 1 p.m. local time, or 6 a.m. ET. Three hours later came another, extended volley of gunfire. Its nature was unclear.
Ole Lenku, the Kenyan secretary of the interior, told reporters Monday that two terrorists had been killed earlier in the day. He said that some of the attackers who seized the mall were dressed as women.
The militants launched their siege of the facility, Westgate Shopping Mall, on Saturday afternoon. Al Shabaab, a Somali terrorist organization linked to al Qaeda, said that it was behind the assault and that it was retribution for a 2011 push by Kenya into Somalia.
The Kenyan Red Cross had put the number of dead at 69 but reduced the toll Monday to 62. It said that the earlier figure was the result of double counting as bodies were moved from morgue to morgue.
Amateur video from the attack on Saturday showed shoppers ducking for cover around aisles of merchandise as loud volleys of gunfire echoed in the background.
"It seemed like anywhere you looked there would be another body," said Tyler Hicks, a photographer for The New York Times who lives nearby and raced to the scene. "Terrified people were crying, screaming, just running for their lives."
The FBI said that it was investigating whether as many as five Americans were among the team of terrorists who captured the mall. But a senior FBI official said there was no hard evidence of American involvement yet.
The attackers hurled grenades and sprayed automatic fire, and witnesses said that they used AK-47 rifles and wore belts of ammunition. In addition to the dead, at least 175 people, including children, were hurt.
"They were shooting from the exit ramp, shooting everywhere," a woman who gave her name as Cecilia told Reuters after emerging from the mall Sunday. "I saw people being shot all around me, some with blood pouring from bad wounds."
"I was just praying, praying, 'God, keep me alive,' and that my day hadn't come," she said.
Five Americans were reported injured in the mall attack, including a San Diego woman. Among the dead were four Britons and a Canadian diplomat, and British Prime Minister David Cameron said: "We should prepare ourselves for further bad news."
Kenyan security forces were being helped by Israeli and Western experts. The complex has several Israeli-owned shops.
British newspapers suggested that a woman known as the White Widow, a British Islamic convert whose husband was one of the attackers in the 2005 terror assault on the London transit system, was behind the attack in Kenya.
The woman, Samantha Lewthwaite, is known to have spent time in Kenya. The British Foreign Office said that it was unwilling to speculate on her involvement.
The mall siege is the largest attack in Kenya since an East African cell of al Qaeda bombed the United States Embassy in Nairobi in 1998, killing more than 200 people.
The last major attack by al Shabaab outside Somalia was a double bombing in Uganda targeting people watching the 2010 World Cup soccer final. Those bombings killed 77 people.
Kenyan television reported that more than 34 million Kenyan shillings, or about $400,000 had been raised through text message donations for victims of the attack.