KPD Daily Briefing: Wednesday, September 25, 2013
Posted:
Updated: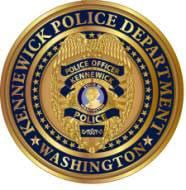 Wednesday, September 25, 2013
C-Shift

Disorderly Conduct/Gage & Steptoe- Male was in the intersection contacting passing
cars asking for money. Officers responded after a citizen complaint to Dispatch, and
witnessed him in the roadway upon arrival. Upon contact he was argumentative with
Officers, accused them of lying, and claimed that KPD was just out to harass him. He
booked on disorderly conduct charge.

Warrant Arrest/500 blk S Anderson-Officers responded and assisted juvenile probation
in locating and arresting known gang member at this location. He was booked for
probation violation.

Telephone Harassment/2100 blk S Rainier- On 09/24/13, Officer Littrell investigated a
harassment report involving a 90 year old female victim. The victim reported that she
had received numerous phone calls from a male that she did not know. The victim
stated that the male made numerous sexual comments to her during each phone call.
Search warrants were obtained and served on Charter Communications and Sprint
cellular. The results of these search warrants led investigators to contact a male living in
the 2100 blk S Rainier St. He was interviewed and admitted to making the phone calls.
He was found to be a level 3 registered sex offender and was booked into the Benton
County Jail for Telephone Harassment.

A-Shift

Theft/00 blk S Sharron St- Complainant reported an unknown male entered her vehicle
and stole a bag. Inside the bag was a proxy card and keysto Southridge High School. A
neighbor observed a black truck pull up to the vehicle and a male exit. The male began
prowling the vehicle when the witness yelled at him. The vehicle was last seen
eastbound on Kennewick Ave.

Mental/1600 blk W 14thAve-Officers responded to this residence in reference to a
suicide attempt. Female was depressed and took approximately 20 pills of prescribed
medication. She was transported to KGH for treatment and evaluation by Crisis
Response.

Theft/900 blk S Washington St-Officer Melone responded to a suspicious female.
Employees reported that a female was acting strange and appeared to be on narcotics.
She entered the store and selected a bottle of alcohol. She then walked around the
store drinking from the bottle. She then placed the bottle on a shelf and walked out.
She was arrested and booked for theft/Shoplift.
Weapons/Metaline & Arthur-Officers were dispatched to a weapons complaint that
had just occurred. Complainant reported that he was crossing the street when he was
almost struck by a vehicle. Words were exchanged between him and the driver. The
driver reached under the seat and displayed a handgun in a threatening manner. The
complainant then observed the suspect vehicle pull into the driveway in the 600 blk N
Arthur. Officers made contact at the residence and the suspect was contacted and
denied being involved in the altercation. Officers looked inside his vehicle and spotted
the handle of a gun. He was detained and he admitted to being involved and advised
the gun was a pellet gun. Written permission was obtained to retrieve the gun from the
vehicle. He was arrested and booked for brandishing a firearm, false reporting and
driving while license suspended.

If you have information pertaining to any of the crimes reported in the
Briefing, contact Kennewick Police at (509) 582-1351 or Tri Cities Crime
Stoppers at (509) 586-8477/ (800) 222-TIPS or
www.tricitiescrimestoppers.org

Kennewick Police Crime Prevention prepares the Kennewick Police
Briefing.

For more information contact Kennewick Police Crime Prevention at
(509) 582-1351.