DEADLY SUPER TYPHOON: 10,000+ Feared Dead
Posted:
Updated: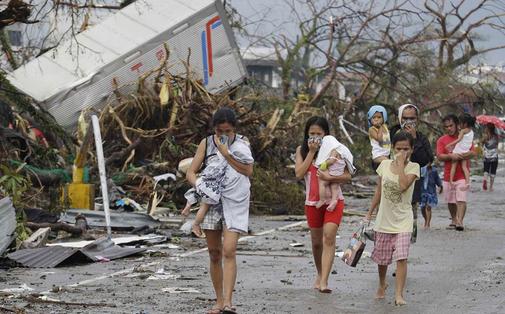 TACLOBAN, Philippines (AP) - Philippine officials say Friday's typhoon in the central part of the country may have killed 10,000 or more, but the official death toll is still less than 950.

In many areas bodies lie uncounted in the streets, as survivors search for food, water and medicine.

Officers at a small naval base say there are no body bags to move eight corpses submerged there in sea water.

The U.S. military has begun bringing in supplies and troops.

A U.S. Marine general says he saw bodies everywhere when his helicopter flew over the region. Marine Brig. Gen. Paul Kennedy says every building and house he saw was destroyed or severely damaged, and he says, "I don't know how else you can describe total devastation."

NEW: Survivors describe ordeal amid 20-foot surge from typhoon

TACLOBAN, Philippines (AP) - Survivors of the typhoon that may have killed 10,000 people in the Philippines are describing being swept away by a 20-foot storm surge.

A 19-year-old student in the hardest-hit city, Tacloban (tahk-LOH'-bahn), says he tried to ride out the storm in his home with his ailing father, but the storm surge carried the building away. Marvin Daga says they clung to each other while the house floated, but it eventually crumbled and they fell into the churning waters. He says his father slipped out of his grasp and sank -- and that he's not expecting to find him alive.

Larry Womack and his wife Bobbie, American missionaries from Tennessee, have lived in Tacloban for a long time. Womack says he chose to stay at their beachside home, only to find the storm surge engulfing it. He survived by climbing onto a beam in the roof that stayed attached to a wall. Womack says, "There were actual waves going over my head."

Even people who fled to evacuation shelters found that they weren't safe. A 21-year-old woman who was about to give birth was in an evacuation center that was devastated by the storm surge. She had to swim and cling to a post to survive -- eventually reaching safety at the airport, where she gave birth to a baby girl. The baby, Bea Joy Sagales, appeared to be in good health. Her arrival drew applause from others in the airport, and military medics who helped in the delivery.