Neighbors Recall The First Murder In Moscow In Two Years
Posted:
Updated: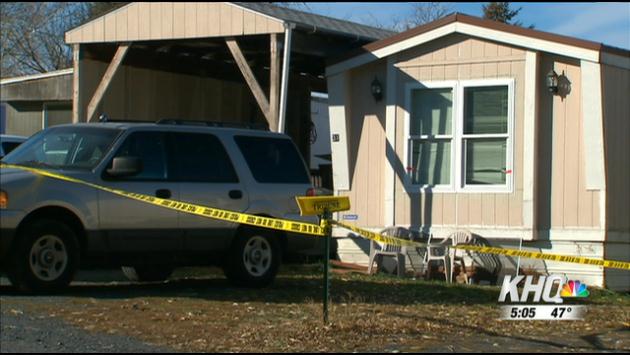 The suspect in Sunday's shooting was cooperating with police according to neighbors who saw the arrest. Neighbors say 28-year-old Nathan Nisbet came out of the trailer peacefully and did not put up a fight when he was taken into custody by investigators.
However, those who live in the mobile home park where the shooting occurred, say he is not always so cooperative. KHQ spoke to several people who say they have called police for noise complaints involving Nisbet in the past. One neighbor, who asked to remain anonymous, says many are not shocked that this happened.
"No, we're not really surprised," said the neighbor who witnessed the arrest. "I hate to say it, but we're not really surprised."
The Moscow Police Department received the call about the shooting just before 1:00 p.m. Sunday. According to police, 42-year-old Charles Patrick McMichael, his wife, and the suspect's estranged girlfriend were at the trailer to change the door locks. However, when the three arrived, the door was already locked and barricaded from the inside.
Police say McMichael was able to force the door open, but when he walked into the trailer, he found the shooting suspect Nathaniel Nisbet inside. That is when police say the two got into some kind of argument and shots were fired.
"A few minutes later we heard a bang, bang, bang sounded like somebody was just knocking on the door real hard," said the neighbor who witnessed the arrest. "But, then we heard some screaming and yelling from some females, looked outside saw a couple of women outside. They walked down the block and a few minutes later police showed up with guns drawn."
Police say Nisbet placed the gun on the kitchen counter before he walked outside and was arrested. Investigators then went inside and found McMichael with multiple gunshots to his chest. He was taken to the hospital, but later died as a result of his injuries.
Nisbet was booked into the Latah County Jail. He is charged with first-degree murder and will likely make his first court appearance on Tuesday. According to the Moscow Police Chief, this is the first murder in the town in two years.