Crime Tracker: Car Prowling Spike During Holidays
Posted:
Updated:
by Kalae Chock, KHQ Local News Reporter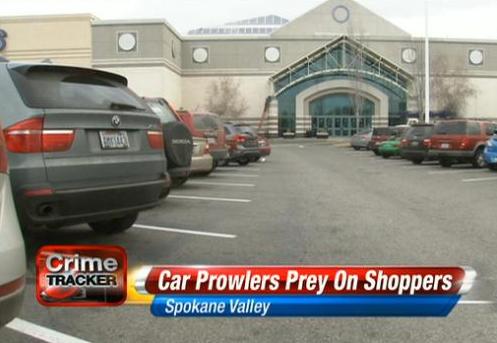 KHQ.COM - Law enforcement has a warning for people who plan to spend the weekend Christmas shopping. The Spokane County Sheriff's Crime Prevention Unit says shoppers are prey for thieves trying to steal your purchases right after you take them out of the store.
The Sheriff's Office is working with mall security at the Spokane Valley Mall to make sure they keep an eye out for car prowlers trying to steal the bags and gifts in your car from a day of shopping.
The Sheriff's Office says it sees a spike every year around the Holiday season of thieves looking to steal things left inside your car. The trend is common in shopping areas throughout Spokane, not just the mall. Deputies say the best thing you can do is to remove anything worth value from your car.
You can also help serve as the eyes and ears for law enforcement by reporting anything suspicious. Deputies say it's common for people to park their car and hurry into the store, especially in cold weather.
They say people who linger and don't appear to have a purpose or specific direction they're headed could be a red flag. Deputies say there are even more obvious signs like a person going from car to car and trying door handles to see if any of them are unlocked. In these cases, law enforcement wants you to make a report. They say you can call 911 or make a report to Crime Check.
There is also a volunteer S.C.O.P.E. office in the Valley Mall and a volunteer C.O.P.S. Shop next to Northtown Mall. Law enforcement says you can make reports at both of those places as well.