Grant County Sheriff's Office Arrest Two, Searching for One after Shooting
Posted:
Updated: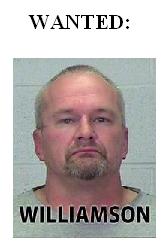 Williamson is wanted as a person of interest
UPDATE: MOSES LAKE, WA - The Grant County Sheriff's Office says detectives have arrested the second suspect in a shooting near Moses Lake.
Deputies say arrested 16-year-old Jose Rivera Thursday night in Moses Lake and have held him on suspicion of attempted murder.
On Wednesday, investigators arrested 21-year-old Jordan S. Wiester for investigation of attempted murder in the shooting of 28-year-old Dale Olmos.
Investigators believe Olmos was shot in the head and left in field after a dispute over stolen a cell phone. As of Friday morning, the sheriff's office says he's in critical condition.
Deputies are still looking for 46-year-old Gilbert Williamson in connection with the shooting.
--------------------------------------------------
PREVIOUS COVERAGE:
MOSES LAKE, WA - Grant County Detectives have made an arrest in the case of a Moses Lake man found shot on December 11th in rural Moses Lake.
21-year-old Jordan Wiester of Moses Lake, was arrested on December 18th and is now in the Grant County Jail on felony charges of suspicion of attempted first-degree murder with premeditation and unlawful possession of a firearm. Deputies are now looking for two others who are possibly connected with this case.
The victim in the shooting, 28-year-old Dale Glenn Olmos, was shot near Hiawatha Rd and Road 5 NE.
Olmos was found in a field near the 2800 block of Road 5 NE with a gunshot wound to the head. Detectives believe Olmos was shot because others thought he had stolen a cell phone from another person. He is still in the hospital, where he is in critical condition.

Detectives are still seeking two other individuals:
1.) Jose Rivera, 16 (Suspect) - Sought for attempted first-degree murder. Street name is "Kriminal." He is a Hispanic male with light complexion, 5'8," and about 200 pounds. He has black hair and blue eyes.
Although it is not routine for GCSO to release names and photos of juvenile suspects, GCSO will release the identity of juvenile suspects if they feel they pose a threat to the community. In this case, they feel Rivera does pose a threat.
2.) Gilbert Williamson, 46 (Person of Interest) - White male, 6'0" and about 220 pounds. He has hazel eyes and short brown hair.
Anyone with information on Rivera or Williamson should not attempt to detain them. Rather, people should call the Grant County Sheriff's Office, 509-762-1160, or send information to crimetips@co.grant.wa.us. Tipsters can remain anonymous.