Mike's Local Gourmet: Creme Brulee
Posted:
Updated: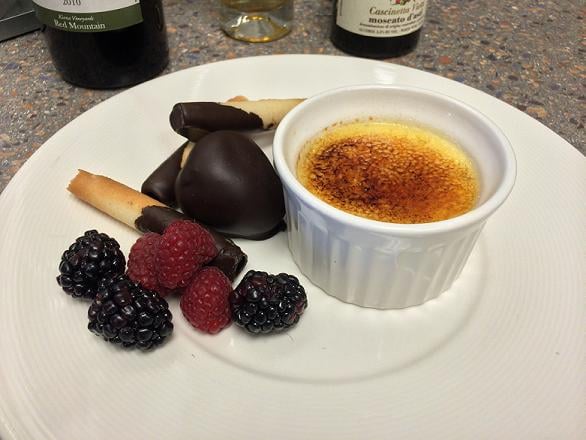 NBCRightNow.com - Here's Chef Brian Hodges' recipe for one of my favorite desserts...Creme Brulee! If you aren't familiar with it, think vanilla custard with a thin, hardened layer of caramel on top! Creme Brulee is french for "burnt cream."

Ingredients (makes 8)
1 vanilla bean
12 oz. sugar
14 egg yolks
1 whole egg
7 cups cream
8 oven-proof ramekins
1) Preheat oven to 325°; score vanilla bean and remove seeds (watch the video above!). Add vanilla seeds (and the bean) to the cream. Steep on medium-low heat for about 10-15 minutes.
2) Combine eggs and sugar in a large mixing bowl and combine. If you use a hand mixer this will add more air to the finished product, thus, a lighter custard!
3) SLOWLY add cream to the eggs and mix. If you add the hot cream too fast, you'll end up with vanilla bean scrambled eggs!

4) Fill baking tray with a layer of cold water, and fill 8 ramekins with the cream and egg mixture. Be sure to leave plenty of room between each ramekin. The water will help prevent the cream from burning.
5) Bake at 325° for 1 hour and 15 minutes, checking every 20 minutes to rotate the pan.
6) Remove from water (careful, they'll be very hot!) and allow to cool completely.
7) Add white sugar to top of each and using a kitchen blow torch, carefully burn the sugar on top of each custard. Cool for about 15 minutes and you're done!


You can add any aromatic to the cream to help flavor the finished product; yYour favorite liquor, coffee, cinnamon or even fruit!

Enjoy!
- Mike