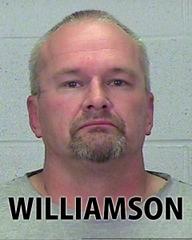 46-year-old Gilbert Williamson
MOSES LAKE, WA - The Grant County Sheriff's Office has arrested a man a third man wanted in connection with a rural Moses Lake shooting.
46-year-old Gilbert Williamson was wanted in connection with the December 10th shooting of Dale Olmos near Moses Lake. Williamson was arrested December 29 by Moses Lake Police. He was taken into custody without incident at a home on Earl Road. Williamson is lodged in the Grant County Jail.

Prosecutors charged Williamson with first-degree rendering criminal assistance for his role in the shooting. Jordan Wiester, 21, and Jose Rivera, 16, are in custody and facing charges of attempted first-degree murder.
PREVIOUS COVERAGE:
MOSES LAKE, WA - The Grant County Sheriff's Office says detectives have arrested the second suspect in a shooting near Moses Lake.
Deputies say arrested 16-year-old Jose Rivera Thursday night in Moses Lake and have held him on suspicion of attempted murder.
On Wednesday, investigators arrested 21-year-old Jordan S. Wiester for investigation of attempted murder in the shooting of 28-year-old Dale Olmos.
Investigators believe Olmos was shot in the head and left in field after a dispute over stolen a cell phone. As of Friday morning, the sheriff's office says he's in critical condition.
Deputies are still looking for 46-year-old Gilbert Williamson in connection with the shooting.