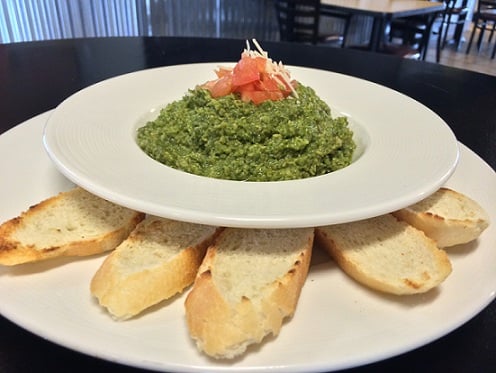 Chef Brian Hodges' Pesto
NBCRightNow.com - Here's Chef Brian Hodges' recipe for Italian Pesto!

Ingredients

6 oz. extra virgin olive oil
1/4 lb. fresh basil

4 oz. parmesan cheese

2 oz. pine nuts (almonds and walnuts work too)

4-5 oz. garlic (don't be skimpy with the garlic!)
Juice from 4-5 lemons

Salt & pepper to taste


1) In a food processor, add lemon juice and basil first (the order is VERY important, be sure to follow these steps and you'll end up with bright, beautiful green pesto). Roughly purée for 10-15 seconds, you don't want to over-process the herbs, you still have more to add to the food processor.

2) Next, add your nuts and cheese and purée for 15 seconds until the color of the pesto starts to change.
3) Add garlic and purée. Finally, add olive oil and salt and pepper to taste.

This dish is a classic amongst Italian cooking! It works well on pasta (of course) and on meats too! It even works as a dip too! Toast slices of Italian bread and you're good to go!

Enjoy!
- Mike