Cell Phone Use Distracts Driver, Leads to Accident on Interstate 84 in Baker County
Posted:
Updated: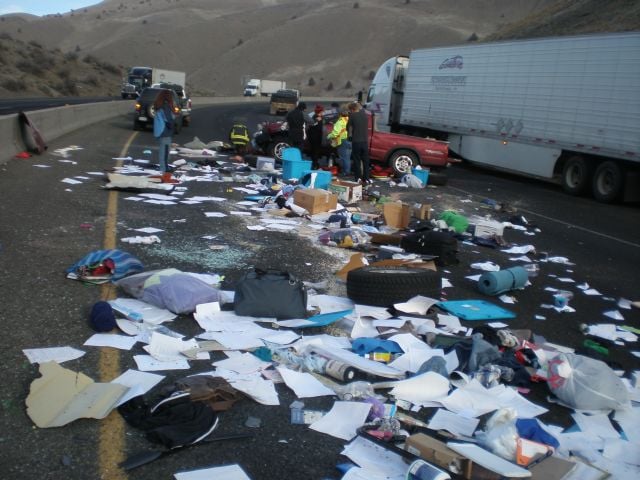 Photo: Oregon State Police
NEAR HUNTINGTON, OR - Distracted driving was the root cause of a single vehicle accident Wednesday morning in Baker County near Huntington.
Oregon State Police say the unlawful use of a mobile communications device was a contributing factor in a single vehicle rollover traffic crash along Interstate 84 about thirty miles east of Baker City. The crash injured two people and affected westbound traffic for about two hours.

Around 9AM on Wednesday, a 1999 Toyota Tacoma pickup driven by 21-year-old Madison Moore of Sherwood, Oregon, was westbound on Interstate 84 near milepost 334. Moore was reportedly distracted while trying to use her cell phone and negotiating a right curve at the same. That's when her pickup drifted to the left and collided twice with the center concrete barrier. The pickup rolled once coming to rest on its wheels. A canopy on the back of the pickup was heavily damaged and the contents inside were strewn across the freeway.

Moore was taken by ambulance to Saint Alphonsus Medical Center in Baker City with minor injuries. She was treated and released.

Moore's passenger, 24-year-old Don M. Hyrum from Phoenix, Arizona, climbed out of the pickup with minor injuries.

Both occupants were using safety restraints.

OSP troopers from the Baker City work site responded to the scene and investigated the crash. MOORE was cited for Unlawful Use of a Mobile Communication Device.

OSP was assisted at the scene by local emergency responders and ODOT. The westbound lanes were blocked for 20 minutes and then one lane open until the scene was cleared about two hours later.

OSP and ODOT remind drivers effective January 1, 2014, Senate Bill 9 changed Oregon's traffic offense of operating a motor vehicle while using a mobile communication device from a Class D violation to a Class C violation. The minimum fine for a class C violation is $142, and the fine for this offense can be as high as $500. The fine's increase is aimed at reducing the number of crashes that involve a driver talking on a handheld phone or texting.

According to ODOT, In Oregon from 2009 to 2011, nine people died in crashes involving a driver who was reportedly using a cell phone at the time of the crash, and 673 people have been injured.

Using a cell phone while driving falls under the category of "distracted driving," and this type of distraction is an increasingly dangerous behavior across the country. According to the National Highway Traffic Safety Administration, in the U.S. 3,331 people were killed in crashes involving a distracted driver in 2011, compared to 3,267 in 2010.