Mike's Local Gourmet: Sautéed Vegetables
Posted:
Updated: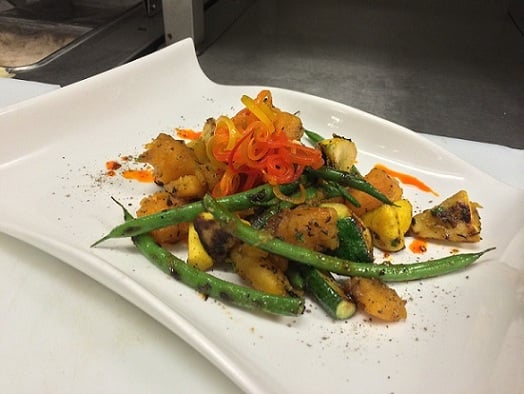 NBCRightNow.com - Here is the recipe for Chef Brian Hodges' Sautéed Vegetables! Perfect as a side or as a meal over steamed brown rice or quinoa!

Ingredients
Vegetables (whatever is in season over anything else!):
- french green beans (Haricot verts)
- baby pattypan squash
- zucchini (green squash)
- butternut squash (cubed)
1 Tablespoon butter
Olive oil
Handful of roughly chopped fresh herbs (sage, rosemary, parsley, oregano)
Small handful of brown sugar
1) Heat olive oil over high heat (this will ensure caramelization of the veggies
2) Add zucchini, pattypan squash and green beans and sauté for 1-2 minutes until veggies start to show dark color (this is the color of the natural sugars and proteins caramelizing).
3) Add butternut squash and sauté for another 1-2 minutes. Next, add half of your fresh herbs to give the veggies, then add butter and give the veggies a toss.
4) Add small handful of brown sugar and sauté for another minute until veggies show a nice shiny glaze.
5) Take the veggies off the heat and add another handful of herbs to complete!
If you're counting calories you can omit the sugar but it adds a fantastic glaze that compliments the brown butter in this dish. While this can compliment a meal as a hearty side dish, it can certainly stand alone as a meal over some steamed rice, quinoa or even tossed into pasta!

As far as the veggies go, use whatever is FRESH and IN SEASON!

Enjoy!
- Mike