Coach Says Seahawks Start Preparing Immediately after Super Bowl Win
Posted:
Updated:
Claire Graham, KHQ Local News Anchor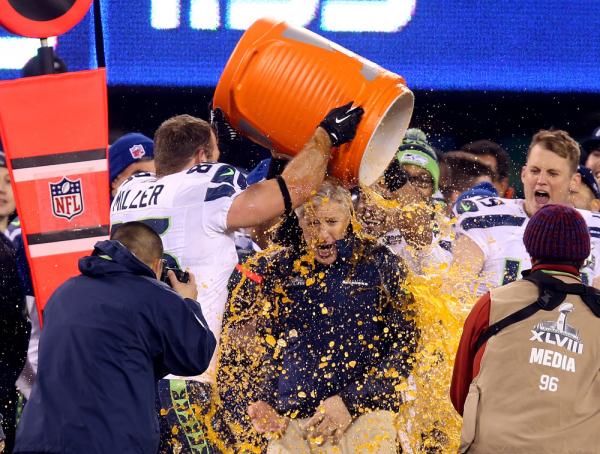 NEW YORK, NY - Super Bowl-winning coach Pete Carroll says his Seattle Seahawks already "have an eye on what's coming" and will start preparing immediately for next season.
Appearing at a news conference Monday morning with linebacker Malcolm Smith, the MVP of Seattle's 43-8 victory over Peyton Manning and the Denver Broncos, Carroll says the work to avoid "fallout" of being champions "starts tomorrow."
He added, "The first meeting that we'll have will be tomorrow.... Our guys would be surprised if we didn't."
Smith's 69-yard interception return for a touchdown and fumble recovery made him only the third linebacker to earn Super Bowl MVP honors.
He says teammates were telling him during the game he might get the MVP award, and his reply was: "No way."
The Seahawks capitalized on a host of Broncos mistakes Sunday night in their stunningly easy upset. Twelve seconds into the game, the Seahawks scored on a safety. Twelve seconds into the second half, Percy Harvin crossed the goal line to cap an 87-yard kickoff return.
In the most lopsided Super Bowl in 21 years, the Seahawks breezed to their first NFL championship since entering the league as a 2-12 expansion team in 1976.
It's Seattle's first major sports championship since the old NBA SuperSonics won it all in 1979. Seahawks QB Russell Wilson tossed threw a pair of touchdown passes in directing an efficient Seattle offense that scored three touchdowns directly off Denver mistakes.
The Seahawks scored touchdowns running and receiving, returning a kickoff and also with an interception return, as well with two field goals and a safety to start the game.
NFC teams now have won five of the last seven Super Bowls.
The Seahawks return Monday afternoon to Sea-Tac Airport, but no fan celebration is planned until Wednesday's parade through downtown Seattle.
The team says there will be no access for fans to see the team at the airport. And, unlike the team's departure for New York-New Jersey, there are no staging areas for fans along 188th Street in SeaTac or outside the training facility in Renton.