Italian Justice Ministry Investigating Knox Judge
Posted:
Updated: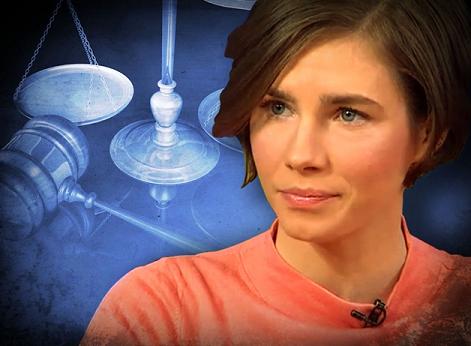 MILAN, ITALY - Italy's justice minister has announced an investigation into comments to the Italian media made by the judge who read the guilty verdicts against Amanda Knox and her former Italian boyfriend Raffaele Sollecito.

Justice Minister Annamaria Cancellieri said in a statement Monday she has asked the inspector general to make a preliminary assessment of the remarks published by two Italian newspapers over the weekend.

The newspapers quoted Florence judge Alessandro Nencini as saying, among other things, that Sollecito's decision not to testify on the witness stand deprived the defendant of a voice. A Sollecito attorney says the comments on the defense strategy are "serious" and could form part of their appeal to Italy's highest court on last week's verdict.

THIS IS A BREAKING NEWS UPDATE. Check back soon for further information. AP's earlier story is below.

The judge who announced the guilty verdicts against Amanda Knox and her former boyfriend Raffaele Sollecito for murder is facing allegations of impropriety that could result in disciplinary proceedings.

Defense lawyers for Sollecito, Knox's co-defendant, said Monday they will request disciplinary action against Florence Judge Alessandro Nencini because of comments the presiding appellate court judge made to Italian media about Sollecito's defense strategy following Thursday's guilty verdict.

Nencini was quoted as suggesting that Sollecito's decision not to testify may have worked against him by depriving the defense of a key voice during the proceeding. The defense said the judge's reported comments could form part of its planned appeal of the verdict against their client.

"This is not a vendetta because a judge handed down a verdict other than what we expected," defense lawyer Luca Maori said by telephone on Monday. Maori said Sollecito's defense will ask the magistrate's governing body, the Judicial Ministry, and Italy's supreme Court of Cassation to take disciplinary action, calling the comments on the defense strategy a "serious" breach.

Knox defense lawyer Carlo Dalla Vedova said in an emailed statement that the interviews were "not appropriate," but he reserved comment on any action until the court's reasoning for the verdict is issued, expected within 90 days of the sentence.

Knox's defense also is planning to appeal the verdict. "She feels that it is a mistake and she will continue fighting for her innocence," Dalla Vedova said.

Members of the magistrate's governing body also said they will request an inquiry, saying Nencini had violated the secrecy of deliberations, anticipated arguments in the yet-published reasoning, and made comments on the defense trial strategy that suggest "partiality," the news agency ANSA reported.

Disciplinary measures could include a transfer or monetary penalties.

Nencini was the presiding judge on a panel that deliberated for nearly 12 hours on Thursday before upholding a lower-court's guilty finding against Knox, 26, and Sollecito, 29, in the 2007 murder of 21-year-old British student Meredith Kercher. Kercher, who shared an apartment with Knox in the university town of Perugia, had been sexually assaulted and her throat slit. The case made its way to a second appeal after Italy's highest court had vacated a Perugia appellate court's 2011 acquittal, challenging its failure to include some evidence as well as its logic.

Knox, who got news of the verdict at home in Seattle, Washington, has maintained her innocence.

In his ruling, Nencini did not issue any precautionary measures against Knox, noting she was legitimately in the United States. He ordered Sollecito's passport to be revoked.

In the comments published on Saturday, Nencini told the Corriere della Sera and il Messaggero newspapers that the judicial reasoning will comment on why the court decided not to separate the positions of Knox and Sollecito in their deliberations and verdict.

Nencini said one clear difference in the Knox and Sollecito defenses is that Sollecito had never been questioned directly, besides during the investigation, even by the prosecution, according to il Messaggero. "The ability not to be heard in a trial is a right, but it deprives the subject of a voice," il Messaggero quoted Nencini as saying.

Sollecito's defense lawyer, Giulia Bongiorno, had requested in her closing argument that the jury not consider Sollecito as an extension of Knox, but look at him in his own right. The two defense teams, nonetheless, remained very close in their arguments, maintaining a common alibi that the couple had spent the night of the murder together in Sollecito's apartment.

Nencini on Monday denied having made any judgment on the defendants' legal strategy. "If my words generated a misunderstanding about the absolute legitimacy of the choice of a defendant to make voluntary statements, I regret it," the news agency ANSA quoted him as saying.

He said he had spoken "casually" with journalists he ran into in tribunal corridors and who had presented him with "rumors and inferences" about the deliberations.

"My intention was to clear up possible misunderstandings," Nencini was quoted as saying.