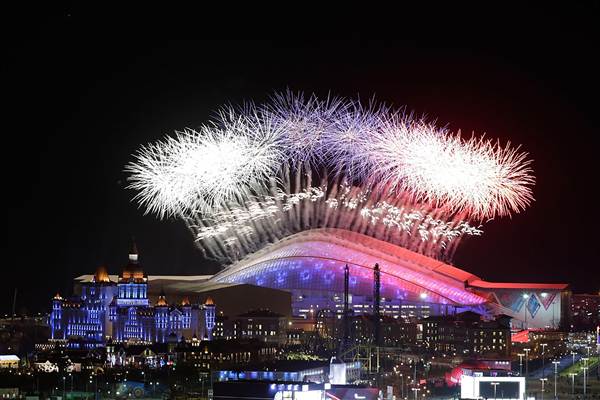 Courtesy: NBC News
Sochi Olympics kick off with grand opening

SOCHI, Russia (AP) - Sochi has lit up with music and dance to unleash the ultimate achievement of Vladimir Putin's Russia: a Winter Olympics to showcase the best athletes on ice and snow the world has to offer.

The opening ceremony on the edge of the Black Sea and subsequent games are Russia's chance to tell its story of post-Soviet resurrection to the world - and dispel the anger, fear and suspicion that has marred the buildup to these most expensive Olympics ever.

Just after the sun set Thursday over the Caucasus Mountains and the seashore, Russian TV star Yana Churikova shouted to the crowd: "Welcome to the center of the universe!"

Soon to come are the athletes. Some 3,000 in 98 events, more people and events than ever at the Winter Games.

Some athletes skip opening to rest up for events

SOCHI, Russia (AP) - Many athletes at the Sochi Olympics are deciding to stay off their feet for the opening ceremony because they'll be on their skates or skis the next day.

Several figure skaters say they're skipping the ceremony's spectacular but tedious parade of athletes to rest up for their competition on Saturday. The women's hockey teams from Finland and the United States, who play at noon on Saturday, also have said they'll watch the show on TV instead. Many men's hockey players are still with their NHL teams and haven't even left for Russia yet.

Athletes have to line up an hour or more before the opening ceremony starts, and they could still be on their feet five hours later.

Putin: Sports should be focus of Sochi Olympics

SOCHI, Russia (AP) - Russian President Vladimir Putin says sports should take center stage during the Winter Olympics and not debate over gay rights.

A Russian law banning gay "propaganda" from reaching minors has drawn strong international criticism and calls for boycott of the Sochi Games from gay activists and others.

In a meeting with Dutch Prime Minister Mark Rutte on Friday ahead of the opening ceremony of the 2014 Games, Putin said the focus should now turn to the Olympics.

In a tweet from his official Twitter account, Rutte says he "Expressed the concerns of the Dutch government and populace about human rights and specific rights of LGBTs (lesbians, gays, bisexuals, and transgenders) in Russia."

4 gay rights activists arrested in St. Petersburg

ST.PETERSBURG, Russia (AP) - Russian police have arrested four gay rights activists protesting in St. Petersburg on the opening day of the 2014 Sochi Winter Olympics.

During Friday's protest, four gay activists unfurled a banner quoting the Olympic Charter's ban on any form of discrimination. The protesters, who gathered on St. Petersburg's Vasilyevsky Island, were quickly rounded up by police, according to Natalia Tsymbalova, a local lesbian, gay, bisexual and transgender activist.