Mike's Local Gourmet: Pesto Penne Pasta
Posted:
Updated: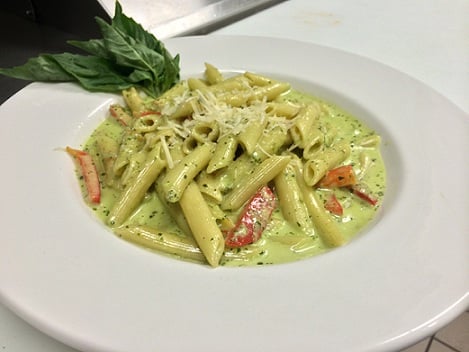 Pesto Penne Pasta
NBCRightNow.com - Here's the recipe from Mike's Local Gourmet for Chef Brian Hodges' Pesto Penne Pasta!
Ingredients
2 cups penne pasta (cooked al dente)
1 cup chicken stock
1/4 cup pesto
1 red bell pepper (sliced thin)
1/4 cup diced tomato
1 cup heavy cream
1/4 Parmesan cheese
Salt and pepper to taste
1) Cook pasta until al dente (about 10 minutes), drain, and move to a medium saucepan over medium-high heat and add chicken stock.
2) After about 5 minutes of cooking, add tomatoes and peppers and continue cooking for another 2-3 minutes (until the peppers soften a bit).
3) Add heavy cream (slowly) and reduce for about another 5 minutes (when you see big bubbles around the outside of the pan you'll know you're in business). Add parmesan cheese and allow it to melt; stir to prevent the cheese from sticking to the bottom of the pan.
4) Add pesto and stir occasionally (the pesto has cheese in it and it may stick to the bottom of the pan). Cook for another 2-3 minutes and add salt and pepper to taste.
This dish is great to prepare for a special occasion (Valentine's Day, maybe?) and according to Chef Hodges pairs well with a white wine as to not bog down your taste buds because of the cream sauce. If you're looking to add some heat to this dish, add some crushed red pepper flakes or sriracha hot sauce when you add the salt and pepper at the end!
Have a great Valentine's Day!
- Mike