I-84 in Columbia Gorge to be Slow for Days Due to Landslide
Posted:
Updated: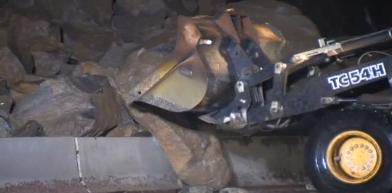 Photo: Oregon State Police
UPDATE/HOOD RIVER, OR - Oregon transportation officials say traffic will crawl along Interstate 84 through the Columbia Gorge through the weekend because of a landslide at a cliff near Hood River.

Traffic was down to one lane westbound on Thursday, with eastbound traffic blocked. Motorists were told to try detour routes north and south.

The landslide's total volume was estimated at 2,000 cubic yards.

Spokeswoman Kimberly Dinwiddie of the Transportation Department says rocks were still falling Thursday afternoon.

She says the plan is to have a contractor send up workers called scalers who will use a mountaineering technique - rappelling - to descend the cliff and knock down the remaining loose rock, so it won't be a danger.

She says the hope is to clear the road enough to open an eastbound lane Monday.

PREVIOUS COVERAGE:

HOOD RIVER, Ore. - The Oregon Department of Transportation says it has a lot of work to do before it can reopen the eastbound lanes of Interstate 84 that were hit Wednesday night by a rockslide in the Columbia River Gorge.
Spokeswoman Kimberly Dinwiddie says first, ODOT has to make sure no more rocks are in danger of falling.
Then a contractor will have to help move some of the large boulders blocking the highway. Dinwiddie says she isn't sure when the highway will reopen.
Oregon State Police say a car crashed into several boulders but the driver was not hurt. The slide is about 50 miles east of Portland just west of Hood River. It blocked one westbound lane, so only one lane of traffic is moving west. Eastbound traffic is detoured on Highway 14 in Washington.