Mike's Local Gourmet: Cajun Shrimp Salad
Posted:
Updated: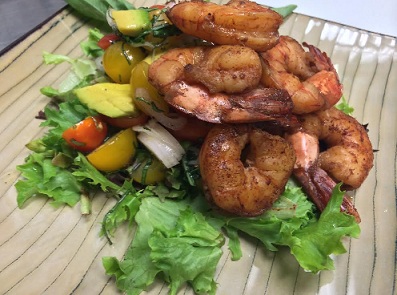 Cajun Shrimp Salad
NBCRightNow.com - Here's the recipe from Mike's Local Gourmet for Chef Brian Hodges' Cajun Shrimp Salad just in time for Mardi Gras!

Ingredients

5 jumbo shrimp, cleaned (per person)
Your favorite beer (enough to just slightly cover the shrimp)
Crab boil spices (typically sold as a mix, but you can use whatever spices you prefer)
2 large shallots, finely sliced
1 pint of cherry tomatoes, sliced in half
8 large basil leaves, finely sliced
1 avocado, cubed
1/4 cup mirin
1/8 cup rice wine vinegar
Salt and pepper to taste
1) In a medium saucepan, fill the pan with enough beer to cover half of the shrimp and mix in the crab boil spices. Poach (to cook in liquid) over medium-high heat for 2-3 minutes or until the shrimp become opaque.
2) In a mixing bowl combine the cherry tomatoes, basil, shallots, mirin and the rice wine vinegar and toss. Add in salt and pepper to taste, but remember, the crab boil seasoning already has salt in it!
3) Arrange over mixed greens and place the shrimp on top! That's it!
This dish shows that Cajun food doesn't need to be deep-fried or loaded with calories in order to deliver authentic flavors! If you've never tried mirin before, it's a Japanese sweet cooking wine that's made from reducing sake (a Japanese spirit). When combined with the rice wine vinegar it creates a flavor profile close to a bread & butter pickles! It works very well with the heat from the Cajun spices on the shrimp.
Enjoy and Happy Mardi Gras!
- Mike