Interstate 84 Closed near Pendleton after Two Fatal Crashes
Posted:
Updated: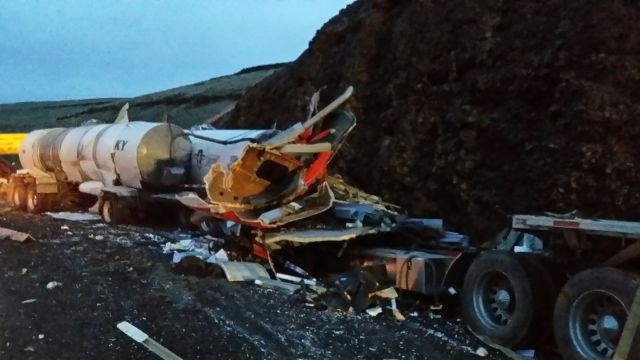 Photo: Oregon State Police
UPDATE/PENDELTON, OR - The ODOT reopened eastbound I-84 from Pendleton to Ontario around 3 p.m. on Monday. Westbound lanes are still restricted to one lane.

Crews closed the lanes after multiple accidents, including one that killed two drivers.

Oregon State Troopers say two commercial truck drivers unexpectedly hit another accident. One driver from Texas was ejected from his truck. Another man from Washington was found inside his truck. Troopers pronounced both dead at the scene.

Troopers plan to release more information on Tuesday.
PREVIOUS COVERAGE:

PENDLETON, Ore. - Oregon State Police now say two people died in the multi-vehicle traffic crashes on Interstate 84 near Pendleton Sunday night.
Police say the two people died in separate crashes in the Cabbage Hill area, east of Pendleton in Umatilla County. Troopers haven't released their names.
Police say at least six commercial vehicles were involved in separate crashes in the icy conditions.
Both the eastbound and westbound lanes of Interstate 84 remain closed as of Monday morning.
------------------------------

PENDLETON, Ore. - The Oregon Department of Transportation has closed part of Interstate 84 near Cabbage Hill because of multiple crashes Sunday night.
ODOT says I84 is closed westbound between Pendleton at Exit 216 and Ontario at milepost 377. The westbound lanes should open later in the day on Monday. The eastbound lanes are closed at exit 216 in Pendleton, but they're set to open around 11:30 Monday morning.
ODOT says crews are working to clear the roadway after a pileup of several semitrailer trucks left vehicles backed up behind the wreckage.
Drivers will need to use alternate routes, if available. ODOT says all motorists should drive with extra caution.
The wreckage is on Cabbage Hill, the mountainous stretch south of Pendleton, the same place where a tour bus plunged down a hillside in 2012, killing nine people and injuring 38.