27 Students On School Bus That Crashed In Stevens County
Posted:
Updated: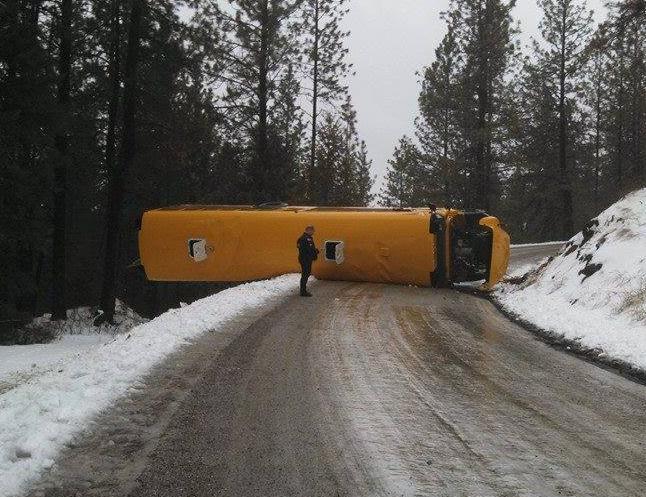 Photo from Facebook
From The Mary Walker School District On The Bus Crash That Happened Wednesday Morning: Out of 27 students on bus #6 (which is the Cemetery Road Route), there were 8 students transported to Sacred Heart Hospital for treatment of bumps, bruises, etc. Nothing life-threatening was reported in terms of injuries. We are grateful for the quick response of local law enforcement and EMT's that arrived on the scene. We currently have counselors and nurse on site to assist with students who might need attention due to the trauma related to this accident. We are grateful for the safety of all concerned and if there are any need for further updates, we will pass that along through our Instant Alert System. Thank you.

From The Mary Walker School District: There has been an accident with our bus #6, which is the Cemetery Road route. There were 27 students on board and the current information we have now is that six to eight students were transported with unspecified injuries to Sacred Heart Hospital in the Pediatrics Emergency room in Spokane. We are waiting for more details and of the names of the students on that bus. We currently have School District representatives at the scene and we will send out updates shortly as they come in. You can contact the District office at 258-4534

UPDATE: A grandmother of 2 of the children on the school bus that crashed called the newsroom and confirmed several children are being taken to Sacred Heart Medical Center, including her two grandchildren. She tells us the school bus was full of children ranging in ages from preschool to high school. Again, according to WSP, only minor injuries have been reported.

BREAKING NEWS: A school bus has crashed on Cemetery Rd. in Stevens County on Hwy. 231, according to the Washington State Patrol. WSP says that children were on the bus and that only minor injuries are being reported. We'll post more details when we get them.