Search Continues for Missing Malaysian Jetliner
Posted:
Updated: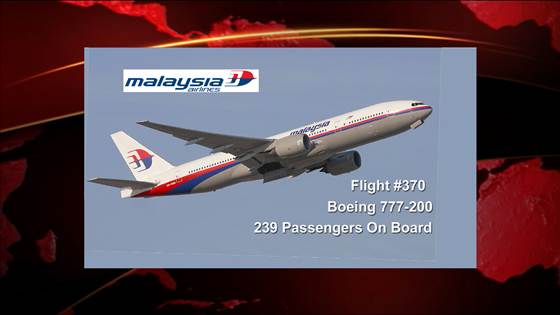 UPDATE: MALAYSIA - The hunt for the missing Malaysia Airlines jet entered its fifth day on Wednesday. Twelve different countries are now helping to search more than 27,000 square nautical miles of sea in an unprecedented effort.
Investigators still do not know if Flight MH370 turned off course before it disappeared, prolonging confusion about the plane's last known position.
Forty-two ships and 39 aircraft are searching two areas of water - one in the South China Sea, the other in the Strait of Malacca, Malaysia's Department of Civil Aviation chief Azharuddin Abdul Rahman told reporters.
The search zone is about 35,000 square miles -- or almost the size of Indiana.
"We will never give up hope" of finding the missing Boeing 777, he said.
Military radar detected what could have been the jetliner at a point 200 nautical miles (320 miles) northwest of Penang Island at 2:15 a.m. local time Saturday, Malaysia's air force chief Rodzali Daud says.
If confirmed, that would place the aircraft hundreds of miles west of its last confirmed position on civilian radar screens, heading towards Vietnam 45 minutes earlier.
Rodzali stressed that the military radar information needed to be corroborated. While civilian radar screens display the identity of aircraft, military radar only shows objects it has detected.
India was asked to search an area near the Andaman Sea on Wednesday. Fishermen in Malaysia also found an orange and black life raft floating in the Malacca Strait, according to a local report.
Earlier, it emerged that the Federal Aviation Administration ordered checks on hundreds of U.S.-registered 777s after reports of cracking in the fuselage skin underneath a satellite antenna.
PREVIOUS COVERAGE:
KUALA LUMPUR, Malaysia - Investigators are trying to learn all they can about two passengers who boarded a missing Malaysian jetliner with stolen passports.
Thai police and Interpol are questioning the proprietors of a travel agency in a Thai resort town that sold the men one-way tickets.
Malaysia's police chief was quoted by local media as saying that one of the men has been identified, but Malaysia's civil aviation chief isn't confirming that.
The use of stolen passports has fueled speculation that terrorists may have brought down the Boeing 777, which vanished with 239 people aboard.
The police agency says it has a database of 40 million stolen or lost travel documents -- but that last year, more than a billion times, travelers boarded planes without their passports being checked against the database. Another possible clue to the disappearance of a Malaysian jetliner has turned out to be unconnected to the plane.
Malaysian maritime investigators had found some oil slicks in the South China Sea, and sent a sample to a lab to see if the oil came from the missing plane. However, they now say tests show the oil was not from an aircraft.
Earlier, searchers investigated a yellow object that looked like a life raft. It turned out to be trash covered with moss that was floating in the ocean.
The head of the organization that monitors the nuclear test ban treaty says he has asked its experts to see if they detected an explosion at high altitude of the missing plane.
Lassina Zerbo, executive director of the Comprehensive Nuclear Test Ban Treaty Organization, says the CTBTO uses "infrasound" - or infrasonic sensors - to monitor the earth mainly for atmospheric nuclear explosions.
Zerbo says infrasound is the most suitable technology to check if there was an explosion on the missing plane and if there was a monitoring station nearby, "or the explosion is at a level or at an amplitude that it could be detected."
He says he has asked the head of the CTBTO's International Data Center to examine the infrasound data.