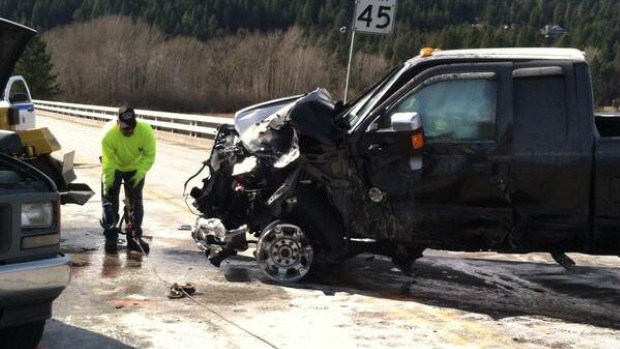 A person has died in a crash on Hwy. 95 near Ramsey Rd. on Tuesday
COEUR D'ALENE, Idaho -
UPDATE:
One person was killed in a three-vehicle crash on US 95 on the Spokane River Bridge Tuesday morning.
Idaho State Police say 60-year-old Stephen Pedersen of Coeur d'Alene was killed in the crash. ISP says Pedersen was driving northbound on US 95, being followed by another car, when Pedersen crossed the center line and crashed head-on into a truck being driven by 74-year-old Leonard Hammrich. Pedersen was killed in the crash. Hammrich was taken to Kootenai Medical Center for treatment. Hammrich's exact condition is unknown, though we are told his injuries are not life-threatening.
The driver of the third vehicle involved, the one following Pedersen was not injured.
The crash is still under investigation.
Previous Coverage: BREAKING UPDATE:
A person has died in a crash on Hwy. 95 near the Spokane River Bridge The person killed was not in the truck you see pictured in this story. We're not showing the vehicle the person died in until next of kin has been notified. Keep checking back to this web channel for updates.
KHQ.COM
- Currently the Idaho State Police is investigating a crash on the Spokane River Bridge at milepost 429.5 on US95 at the south city limits of Coeur d'Alene. Both directions of travel are completely blocked. This closure may last an additional 2-3 hours. We'll post more details when we get them.