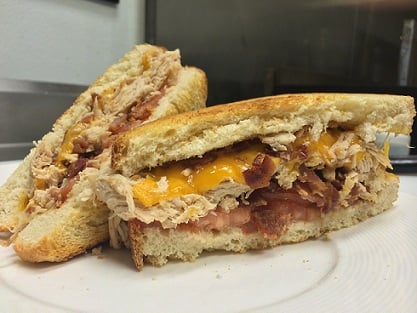 Turkey Bacon Melt Sandwich
NBCRightNow.com - Here's the recipe from Mike's Local Gourmet for Chef Brian Hodges' Turkey Bacon Melt sandwich!

Ingredients
3-5 slices of bacon
1 roma tomato, sliced thick
2 slices of sourdough bread
6 oz. cooked turkey breast
2 slices of cheddar cheese
1) To cook to the bacon the easiest and cleanest way is to bake it in the oven. Preheat your oven to about 350-375° (depending if you like your bacon extra crispy or not). Line a baking sheet with foil and lay your bacon slices evenly along the sheet. Cook for about 15 minutes and then drain the grease from the bottom of the sheet and continue baking until you achieve your desired crispiness.
2) Toast the bread and then begin to stack the sandwich! Start with the tomatoes, then the turkey, bacon and cheese on top!
This incredibly easy sandwich to prepare is minimal on the ingredient list but packs a punch! The saltiness from the bacon pairs wonderfully with the creamy cheese and the toasted bread. For an added touch, add some hot sauce to add another layer of flavor (sriracha is always the answer)!
Enjoy!
-Mike