18 People Unaccounted for After Oso Landslide
Posted:
Updated: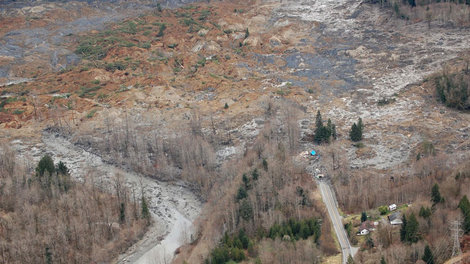 Courtesy: WSDOT
KING5.com - Eighteen people remained unaccounted for Sunday after a massive landslide slammed into 16 homes near Oso on Saturday.

Snohomish County Fire District 21 Chief Travis Hots said the number of missing is fluid and could change because some people may have been in cars and on roads when the slide hit just before 11 a.m. Saturday.
The mud was so thick and deep that searchers turned back late Saturday after attempting to reach an area where voices were heard crying for help.
Rescuers couldn't hear any signs of life once they got closer, and the decision was made to back out due to safety reasons, Hots said.
Authorities say the slide wiped out one neighborhood of 28 to 30 homes. The mud was reported to be about 60 feet deep in some areas.

As authorities tried to determine how to get responders on the ground safely, helicopters were flying over the area looking for people who may have been able to get out on their own and for any other signs of life.

The slide has blocked the north fork of the Stillaguamish River.

"The mudflow is moving, we have a massive amount of water that is beginning to back up and has backed up since this thing blocked the river," Hots said.

Hots said the slide debris has the consistency of "quicksand" and rescuers can't go back in until they get a better assessment of the conditions.
People downstream from the blockage were advised to evacuate Saturday night but the evacuation recommendation was lifted for daylight hours.

Director of Emergency Management John Pennington said the situation is a "disaster within a disaster."

"We really have two disaster operations going – one that has occurred and the unique thing about this event is that there is another event that most likely can occur," said Director of Emergency Management John Pennington.
The National Weather Service issued a flash flood watch for Snohomish County through Sunday afternoon.
People who live in the North Fork's flood plain, from the small communities of Oso to Stanwood, were urged to flee to higher ground.
Forecasters warned that flooding was also possible north of the slide area. The Weather Service said "catastrophic flooding" was unlikely downstream, but authorities were taking no chances and urged people to leave.

"Treat this as if you would any large flood warning in Snohomish County," he said. "We're really good at this in this county; in this case it's a very serious issue."

Three people died Saturday when the massive slide of mud, trees and rocks came down at about 11 a.m. Sixteen homes were destroyed.

First responders in Snohomish County called it the worst slide, the worst natural disaster, they've seen in decades.

"Think back to what Mount St. Helens and Toutle River looked like -- and that's what we're looking at," said Rodney Rochon of the Snohomish County Sheriff's Office.

The National Weather Service said the river level dropped from 3.1 feet to 0.9 feet in the hour after the slide occurred, confirming the river was blocked by the slide.

Shelters have been set up at Post Middle School in Arlington and the Darrington Community Center. The Red Cross is assisting.

More than 100 first responders converged on the scene, including those from Washington State Patrol, Department of Transportation, Department of Emergency Management, US Navy, Snohomish County Sheriff's Office and most all of the fire department agencies in north Snohomish County.