Mike's Local Gourmet: Tossed Quinoa Salad
Posted:
Updated: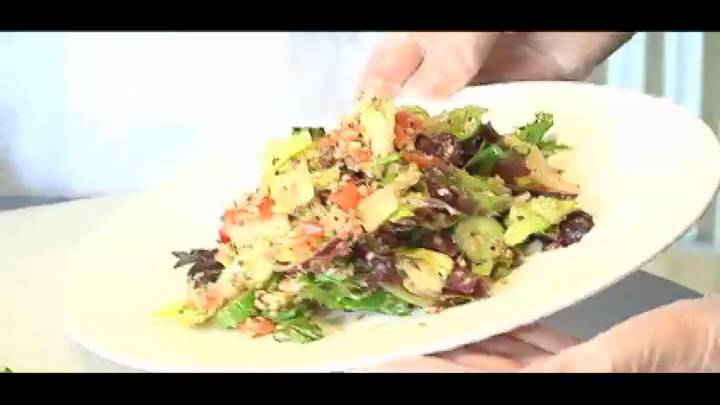 NBCRightNow.com - Here's the recipe from Mike's Local Gourmet for Chef Brian Hodges' Tossed Quinoa Salad!

Ingredients
1 cup cooked quinoa (recipe below)
1-2 baby cucumbers, sliced
Small handful of feta cheese
1-2 tomatoes, diced
Half of a red onion, diced
1 red bell pepper, diced
2-3 cups mixed greens (feel free to use as much as you'd like!)
1) To cook the quinoa (KEEN-wahh) you'll need 1 cup of quinoa (this will make 3 cups when done) and 2 cups of liquid (either vegetable/chicken broth or water). In a wire strainer, rinse the quinoa (if you skip this step, your quinoa may have a soapy taste to it). Next, dry your quinoa and add to a DRY pan and toast on medium heat until you start to see the hulls of the grain beginning to crack a bit. Add your quinoa and liquid to a small pot and bring to a boil, then lower heat to as low as your stove can go and cook covered for 15 minutes. After the 15 minutes, remove from heat but leave it covered for an additional 5 minutes. Fluff with a fork and you're done!

2) Toss all of your veggies together with 1 cup of the cooked quinoa.
3) As far as dressing goes, you can use your favorite dressing or oil and vinegar.

If you've never tried quinoa before it's texture is similar to rice but with a nuttier and fuller flavor. It also has a ton of protein in it (24 grams for 1 cup) when compared to brown rice, potatoes and barley (that's why it's a SUPERFOOD)! Despite the complicated name, it's very easy to cook; just make sure you rinse it first!
Enjoy!
- Mike