Mike's Local Gourmet: Bread Pudding
Posted:
Updated: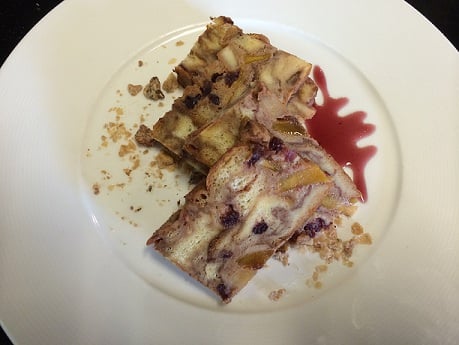 NBCRightNow.com - Here's the recipe from Mike's Local Gourmet for Chef Brian Hodges' Bread Pudding!

Ingredients
1 cup sliced peaches
8-10 cinnamon rolls (without icing)
1 tablespoon almond extract
2 tablespoons cinnamon
6 eggs
2 cups milk
1 1/2 cup sugar
1) Bake the cinnamon rolls according to the instructions on the packaging. You can make them homemade or buy them already baked, but this is a great shortcut! Once cooked and cooled, cut into cubes and set aside.

2) In a large mixing bowl, mix eggs, milk, almond extract and cinnamon until well combined. Next, add sugar (mixing as you add it) and then add the peaches.

3) Slowly fold in your bread cubes and mix to well coat the bread.
4) Line a baking pan with parchment paper and spray non-stick cooking spray onto it just to ensure that you don't burn the bottom of the pudding. Pour your bread mixture into the pan and, using another similarly sized pan, place it on top of the pudding. You can use dried beans or water to help weigh it down; do this for about 15-20 minutes and remove. This will ensure even baking of the bread pudding.
5) Bake for 45 minutes at 350°.
If you've never tried bread pudding, it tastes along the same lines as french toast (the recipes are very close to each other)! Chef Brian also likes to add cranberries and walnuts to this recipe sometimes, but he's constantly switching it up and you should too! That's the BEST part about cooking and baking, trying new things!

Enjoy!
- Mike