2-Legged Vancouver Puppy Getting International Attention
Posted:
Updated: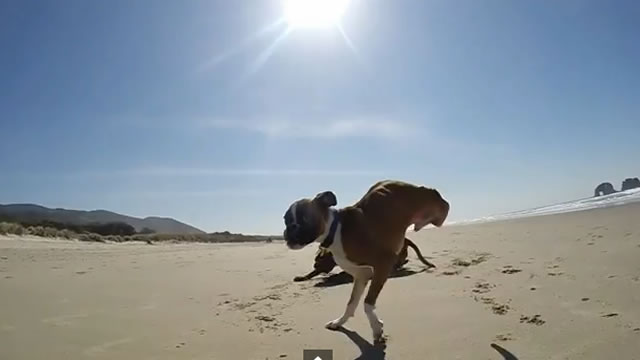 Courtesy: NBC - 2 WBBH
KGW.com - A Vancouver double-amputee puppy is getting international attention after his owners posted a video of him running on the beach for the first time.
Now millions of people are finding him because of something he lost.
After just a week on YouTube, Duncan the dog's Oregon Coast adventure has been seen more than three million times. The video shows the nine-month-old running full speed on the sand. The head-on shot looks like any other beach-loving dog. Only when the camera gives a profile shot does it become clear how amazingly balanced the dog is, given that he only has his two front legs.
"This video has gone crazy viral," said Amanda Geise, Duncan's owner.
Geise runs Panda Paws Rescue in Vancouver. She got Duncan from a Colorado breeder who didn't know what to do with the Boxer puppy's deformed back legs.
"We were told we had to humanely euthanize him or amputate his rear legs to give him the best quality of life," Geise said. "So we decided to give him a chance, and I think we made the right decision."
When KGW first met Duncan in the fall, it was just hours after his operation and he was already walking well. He's never had use of his back legs, so his owner says cutting them off actually made it easier for him to get around.
As happy and healthy as Duncan looks, his owners know that it may not always be that way Duncan faces an uncertain medical future.
"Our family has prepared itself, we may not get an 8-10 year life span with him. But every day we get with him is still a gift," Geise said.
For now, they are relishing Duncan's apparent happiness and the inspiration to overcome obstacles that he is giving to people across the globe.