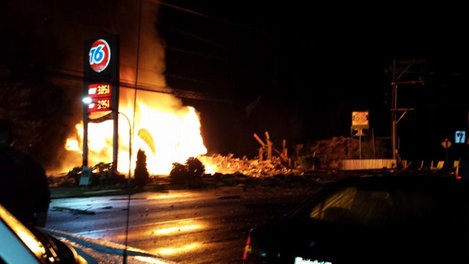 NORTH BEND, WA - An explosion and fire has destroyed or damaged several businesses in North Bend Friday morning.

Eastside Fire and Rescue spokesman Wes Collins says two people suffered minor injuries. Into the morning, firefighters searched damaged buildings, but they don't think anyone was inside at the time.

Collins says the blast may have been caused by a natural gas leak at a pizza restaurant reportedly under renovation. A dispatcher says there were multiple calls and automated alarms at 3:41 a.m. on Friday.

The fire went to two alarms because of the large response. Firefighters say the fire burned a barber shop, and damage from the blast is visible at a gas station, tire store and grocery store.

Debris is scattered over a wide area, reaching across five blocks. People living in North Bend reported waking up when the blast shook their homes. The blast was felt as far as six miles away.