WSDOT Employee From Yakima Trapped in Equipment After Avalanche on Chinook Pass
Posted:
Updated: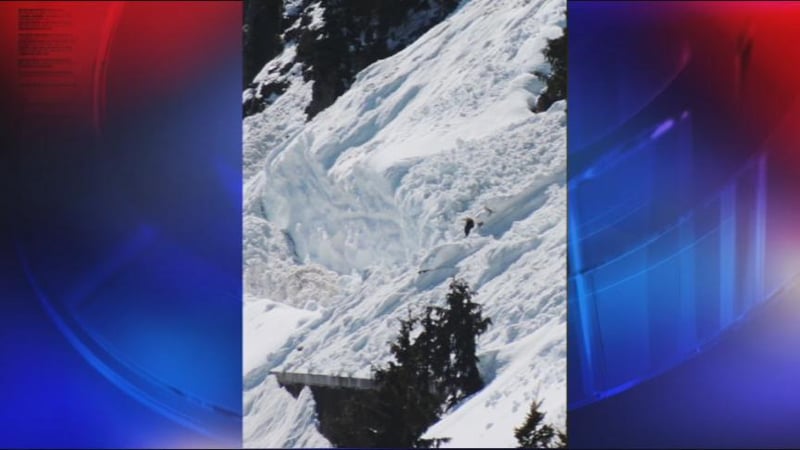 Courtesy WSDOT -- April 25th avalanche that naturally sloughed off the steep slopes of Chinook Pass.
CHINOOK PASS, WA. - It's a miraculous story of survival. A state department of transportation worker survives an avalanche while working at Chinook Pass.
Tom Martinson says he feels lucky to be here today after his bulldozer was completely covered in snow. Tom, who lives in Yakima, was working at Chinook Pass Thursday ironically removing snow left by another avalanche when all of a sudden he heard a rumbling and his bulldozer was nearly completely covered in snow.
Tom saw that he had a chance to escape one of the windows in his bulldozer. When just minutes later, another avalanche completely trapped him in snow. He talked about what was going through his head while he waited more than 5 hours to be rescued.
"I thought about my wife that she would be worried," Tom said. "But I thought about my dad a lot. Kind of what he went through in the war, stuff coming in. I can see how that can terrorize you being under conditions without any control. You're just captive and there you are."
Luckily none of the windows to the bulldozer broke. So Tom waited for more than 5 hours before crews were able to safely dig him out.
Tom says this should serve as a lesson to anyone driving in an avalanche danger zone. That even when you take as much precaution as the Department of Transportation, danger can still strike at anytime.
CHINOOK PASS, WA. - A Washington State Department of Transportation employee is lucky to be uninjured after an avalanche trapped him inside equipment over Chinook Pass.
The avalanche swept down the hillside of State Route 410 around 10 a.m. Thursday while crews were performing routine snow clearing. An employee from Yakima working in a bulldozer about a mile east of the summit radioed to crews that snow had covered his bulldozer and he was trapped. Crews were able to rescue him by 3 p.m. on Thursday.
"We do everything we can to keep incidents like this from happening, but we work in a dynamic environment that involves a fair amount of risk," said John Stimberis, WSDOT avalanche supervisor. "Unfortunately, Thursday was one of those riskier days. We're glad our co-worker is safe."
WSDOT says they made sure to take extra precaution during the rescue mission incase of another avalanche.
The employee was well-protected in the bulldozer: he had enough ventilation to receive fresh air and was safe to remain where he was until crews could free him.