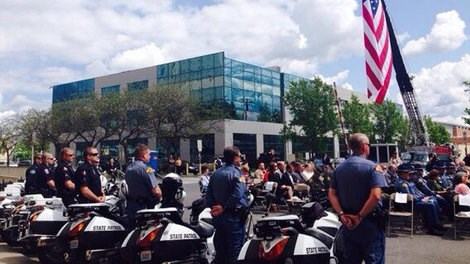 Credit: Spokane Police Department
SPOKANE, WA - Four more names are now on the Washington State Law Enforcement Memorial in Spokane after a ceremony at the memorial site Tuesday morning.

Memorial board members added Wapato Police Department officer Derek "Chip" Hansen. He died two months ago of complications from injuries suffered when a suspect attacked him in July of 2011.

Washington state patrol trooper Sean Michael O'Connell, Jr. was also added. He died when truck hit him while he was directing traffic after the Skagit River Bridge collapse.

Board members also added Whatcom County sheriff James Chatfield. He was killed in July of 1921 after he exchanged gunfire with two people believed to be bootleggers near the Canadian border.

Bellingham Police Department patrolman Otto Brown also got a spot. He died as a result of an on-duty motorcycle accident back in 1930.

These two officers are just being added now because both the Whatcom County Sheriff's Office and Bellingham Police Department lost record of these their deaths until this past year, and wanted to make sure they got the recognition they deserve.

These four were also honored at a memorial in Olympia with seven other members of law enforcement on May 2nd.