Tri-City Unable to Close Out Sweep of Everett
Tri-City Unable to Close Out Sweep of Everett
Posted:
Updated: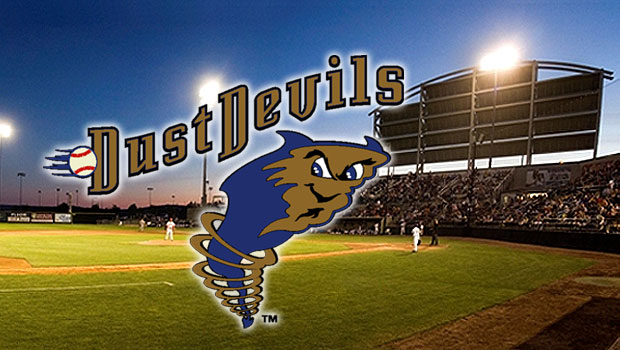 The Tri-City Dust Devils couldn't keep up with the Everett AquaSox offense as they fell 11-5 Friday night at Gesa Stadium. The AquaSox (2-6) racked up 14 hits in the victory.
Dust Devils (3-5) outfielder Marcos Derkes led Tri-City offensively for the second night in a row. He went 3-for-5 with a double and three runs scored. Derkes' average has climbed to .400 for the season.
Tri-City reliever Huascar Brazoban was fantastic in three innings of work. Brazoban went three innings without giving up a hit. He struck out four AquaSox, walked one and hit a batter.
Everett designated hitter Phillips Castillo had another spectacular performance at the plate. He hit a home run for the second straight game. He added four RBIs and a double while going 2-for-4 on the night.
Losing pitcher Blake Shouse (0-2) had a rough outing for the Dust Devils. Shouse went 3 1/3 innings, giving up eight runs, six earned, on eight hits. He struck out one and walked two Everett hitters.
AquaSox starter Ramire Cleto (1-1) pitched 6 innings and gave up five runs on 10 hits. He had four strikeouts and a walk in a winning effort.
The Dust Devils will open a five game series against the Eugene Emeralds at 7:15 PM Saturday at Gesa Stadium. Tri-City will have southpaw Tyler Gagnon on the bump facing Emerald righty Walker Lockett. There will be a postgame fireworks show presented by Back to Basics. There will be a Chevy Youth Baseball Clinic at 4 p.m. on Sunday at Gesa Stadium. Go to http//:rsvp.youthsportswired.com to reserve your spot. Great tickets are still available for Saturday night by going to
dustdevilsbaseball.com
or by calling (509)544-8789.