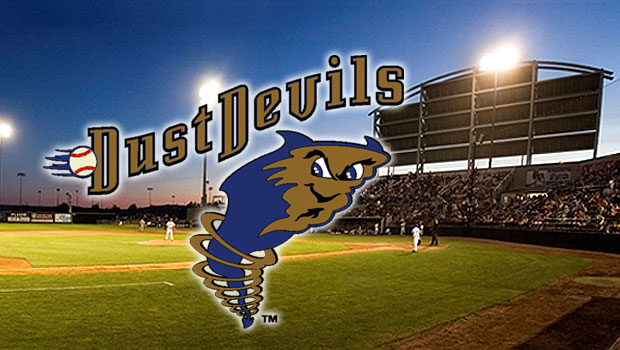 PASCO, WA - The Tri-City Dust Devils grabbed the lead with two runs in the first inning and never looked back on their way to a 5-1 win over the Eugene Emeralds Monday night at Gesa Stadium. The Dust Devils (5-6) scored two runs in the first inning, two in the third and one in the fourth in the victory.

Helmis Rodriguez (2-0) was phenomenal again for the Dust Devils, allowing one run on seven hits and a walk over six innings in the win. He struck out three Emeralds in his outing. Through three starts Rodriguez has been the ace of the Tri-City pitching staff with a 1.04 ERA in 17 1/3 innings.

The Dust Devils bullpen only allowed one base runner in three innings after taking over for Rodriguez. Tri-City pitchers Evan DeLuca, Billy Waltrip and Josh Michalec each pitched an inning of hit-free relief work. Waltrip had a strikeout and Michalec walked a batter.

The outfielders did a majority of the damage for Tri-City. Francisco Sosa went 2-for-4 with an RBI, Mike Tauchman had a pair of RBIs, and Drew Weeks walked and scored twice for the Dust Devils.

Emeralds (4-6) starter Adrian De Horta (0-1) took the loss. De Horta pitched three innings and gave up four runs, two earned, on three hits and three walks while striking out three Dust Devils.