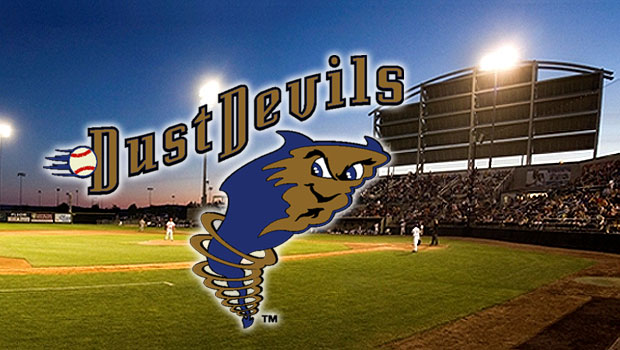 The Tri-City Dust Devils pitching staff carried them to a 1-0 win over the Eugene Emeralds Wednesday night at Gesa Stadium in front of 2,953 fans. The Dust Devils (6-7) scored their only run in the bottom of the first and held on for the win.

Blake Shouse (1-2) picked up his first win of the season. Shouse was brilliant in his five scoreless innings, allowing just three hits and a walk with two strikeouts.

Huascar Brazoban continued his hot streak with two more shutout innings for the Dust Devils. He allowed just one hit and struck out three on the night. In the eight-game home stand Brazoban pitched seven scoreless innings with two hits, a walk and 10 strikeouts in three appearances.

Scott Firth picked up the save for Tri-City with a perfect ninth inning and a strikeout.

Marcos Derkes scored the only Dust Devils run after reaching on an infield single and getting to second on an error. He advanced to third on a groundout by Sam Bumpers before he scored on a wild pitch for the only run of the game.

Michael Kelly (1-2) pitched great in a losing effort for the Emeralds (5-7). Kelly pitched five one-hit innings and allowed an unearned run. He walked two and struck out four.