Early Scoring Boosts Dust Devils To Win
Posted:
Updated: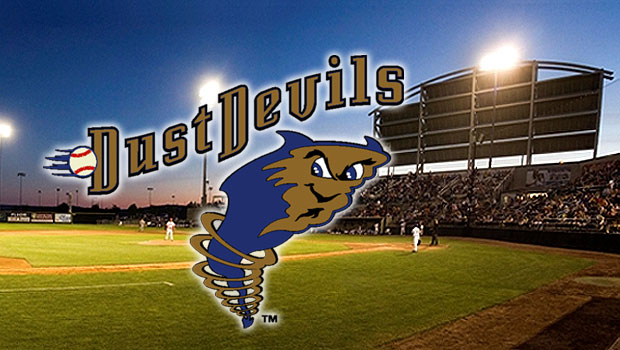 by Dust Devils Media Relations
PASCO, WA - The Tri-City Dust Devils jumped out to a five-run lead in the first two innings on their way to a 5-2 win over the Hillsboro Hops on Thursday night at Gesa Stadium. The Hops (22-12 2nd half, 44-28 overall) didn't get their first hit until the sixth inning.
Outfielders Marcos Derkes and Wilson Soriano and second baseman Sam Bumpers all had multi-hit games for Tri-City (17-17 2nd half, 31-41 overall). Derkes went 2-for-4 with two doubles, two RBIs and two runs scored. Soriano went 2-for-4 on the night. Bumpers went 3-for-4 with an RBI and a stolen base.
Dust Devils reliever Jerad McCrummen came into the game with the bases loaded and one out in the ninth inning. McCrummen closed out the win for Tri-City, striking out the two hitters he faced and earning his second save of the season.
Starting pitcher Blake Shouse (3-6) was nearly unhittable on Thursday night for Tri-City. Shouse didn't allow a hit until there were two outs in the sixth inning. He finished the night after six innings, allowing a run on two hits and a pair of walks. Shouse struck out three on his way to the win.
Hillsboro starting pitcher Austin Platt (3-3) got roughed up by the Dust Devils. Platt lasted just 1 2/3 innings before leaving the game. He allowed five runs on five hits and walked two. Platt took the loss for the Hops.
Hops right fielder Steve Nyiszter went 2-for-4 on the night. Nyiszter had a double, an RBI and a run scored.
The Dust Devils will play the finale of this five game series with the Hops at 7:15 on Friday Night at Gesa Stadium. Righty Logan Sawyer (3-2) will stand atop the hill for Tri-City. Left-hander Jared Miller (1-1) will take the mound for Hillsboro.