Academic All-Star: Tyler Herman
Posted:
Updated: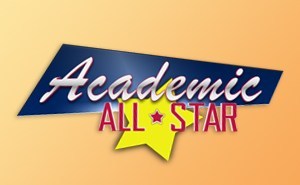 KENNEWICK, WA - This week's Academic All-Star knows how to fire up both a team and a kiln. Kamiakin linebacker Tyler Herman credits his dad for not only getting him into football, but into art, as well.
"I started playing football when I was six. My dad just kind of mentioned it, and I was like yeah let's do it. It just took off from there."
When he's not on the football field, you can find Herman pursuing his other passion: ceramics.
"My dad got me into art. He was an artist back at Kamiakin, too, so I'm just taking after him really."
He mostly gives his creations to his parents as gifts. Recently, he donated one of his pieces to a charity auction presented by the Braves football program.
"I make everything from plates to bowls to baskets. Anything you can really think of, I make."
Herman's been a member of the Braves varsity squad for three years. His coaches have enjoyed watching him grow as a leader both on and off the field.
"He's just a great leader," said head coach Scott Biglin. "He's a leader in the classroom, in school, everything about him is what Kamiakin stands for. I'm proud to have him on the team."
Balancing school, sports and the arts was never a question for Herman. He knew he had to all of his activities 100%.
"You just gotta do it. You know it's hard, it's a grind, but you have to get it all done. I have to make sure my grades are up, my art pieces are stellar, and my football play on the field is good."
Herman plans to attend college next fall.