Wake Up Northwest 12th Man Snacks
Posted:
Updated: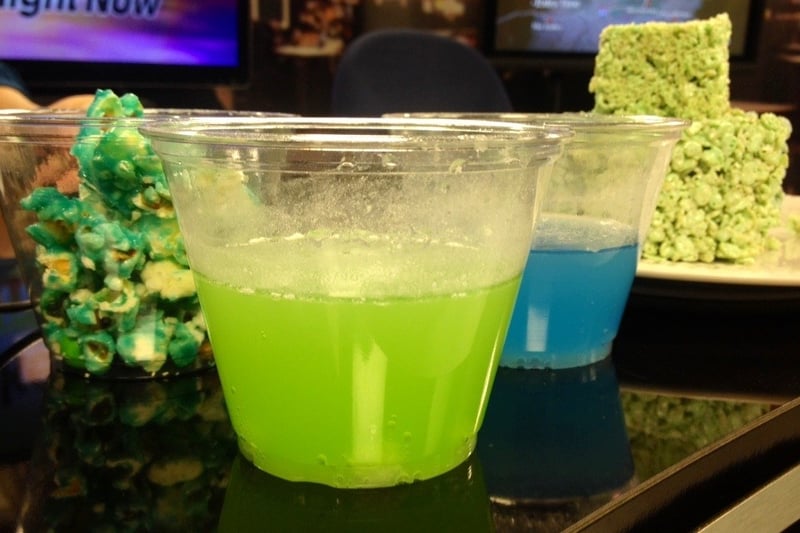 Beast Mode Soda, Game Day Candy Popcorn, and Game Day Rice Crispy Treats.
Wake Up Northwest - This week on Wake Up Northwest, we want to make sure you're well equipped with food and snacks for your Super Bowl party so each day we're introducing you to a new recipe you can enjoy. Check it out!
Monday
: Monty's Buffalo Wing Cheese Dip
1/2 cup of hot sauce
1/2 cup of ranch dressing
1/2 cup of mozzarella cheese
2 cups of canned chicken
8 oz. of cream cheese
Put all of the ingredients in a crock pot, set it to high and let it warm up for about 20 minutes. When it's finished, serve with chips.
Tuesday:
Super Bowl Snacks for the Kids
1. Game Day Candy Popcorn
12 cups of popped popcorn
1/3 cup of real butter (5 1/3 tablespoons)
1/2 cup of light corn syrup (light colored)
1 cup of sugar
1 packet of Kool-Aid drink mix
1/2 teaspoon of baking soda
food coloring (optional)
Skittles (optional but required for all of you Beast Mode fans.
Instructions: Preheat oven to 225 degrees.
Chop butter in a few pieces and place it in a medium-large pot over medium-low heat. Add corn syrup and sugar and stir until butter is melted. Increase heat to bring mixture to a boil. Reduce heat to keep mixture at a simmer and let it bubble way, stirring constantly for 3 minutes.
Remove pot from heat and stir in Kool-Aid and baking soda. Add food coloring if desired. Once mixed up well, pour immediately over popcorn and stir until it's all coated. Spread popcorn onto baking sheet and cook for 40 minutes, stirring every 10 minutes. Cool completely and then break into chunks.
If adding Skittles, it works best to gently push them into the popcorn clumps as soon as it comes out of the oven. The heat from the popcorn mixture will help stick the Skittles to the popcorn.
2. Game Day Rice Crispy Treats
3/4 box of Rice Crispy cereal
2 1/2 small jars of Marshmallow Fluff
Food Coloring
1/2 stick of butter
Instructions: Melt butter in a pot on the stove and add the Marshmallow Fluff. Next, add food coloring of your choice (in this case you would add blue or green). Take the pot off the burner and add the Rice Crispy cereal, stir it and place it in a rectangular cake pan. Let it sit and serve once they rice crispy treats have cooled.
3. Beast Mode Soda
Sprite
Skittles (in this case you'd want to add green or blue skittles.)
Clear cup or glass
Instructions: Pour the Sprite into your clear cup or glass. Add a few Skittles and watch them fizz. The sprite will change colors depending on what color of Skittles you choose to add to the Sprite.
Wednesday
: Snacks for the "Healthy Twelfie"
Blueberries
Blackberries
Green Grapes
Green Apples
Skewers
All you have to do with this is use your imagination! You can put the different Hawks colored fruits on a platter in a fun shape. For instance, we put green grapes into the shape of a "12" and surrounded them with blueberries and blakberries. You can also put the Hawks colored fruit on skewers to make fruit shish kabobs. Green apples are also fun to add to the mix and of course, you can throw in some vegetables as well.
Thursday:
Delicious Recipes from Kimos
1. Eight layer Chicken chili Dip
1 can of chili (or homemade)
2 cups shredded rotisserie chicken
1 cup sour cream
1 cup cilantro , chopped
1 cup frozen corn
1 bell pepper, diced
1 bag tortilla chips
1 cup chopped onion
1/2 cup crushed tortilla chips
1 1/2 cup shredded yellow cheddar
Layer all ingredients in glass bowl and serve hot or cold
2. Bratwich Hoagie Two Ways:
1/2 tbs minced garlic
2 pints RMBC Honey Red Ale
1/2 cup sliced mushrooms
1/2 cup sliced onions
1/2 cup sliced bell peppers
1 hoagie roll
1/2 cup stone ground mustard
1/2 cup swiss cheese
1 brat sausage
salt and pepper to taste
1 Brat sausage
1/2 cup sauerkraut
stone ground mustard
2 pints RMBC Honey Red Ale
Served on a hoagie, salt and pepper to taste
3. Jerk Chicken Wings
1 lb raw chicken wings
1-6 Jalapenos, diced
3 cups apple cider vinegar
3 cups soy sauce
1/4 cup garlic
1/4 cup thyme
1 cup Jamaican Jerk seasoning
1 tbs allspice
1 tbs chilli flakes
2 1/2 cups sugar
4oz corn starch