Academic All-Star: Kamiakin's Ellie Winstead
Posted:
Updated: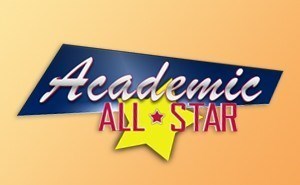 From the time she was seven years old, Kamiakin's Ellie Winstead knew she wanted to be a gymnast.
"I did one year of ballet and I didn't really like it so I tried gym. It was fun bouncing around, and I had a tramp in the backyard and was always doing flips."
She's come a long way since those backyard days. Winstead helped the Braves land this year's 3A district title. The team is on their hunt for a second consecutive state championship. At districts, Winstead took first place in bar and floor.
"I really like floor, the dancing and tumbling. It kind of lets you get out your emotions."
Kamiakin gymnastics coach Sarah Everrett recognizes Winstead's skill and dedication on the mats.
"Ellie's one of my captains. She's very strong, and she's just an overall great athlete."
Outside of the gym she manages to keep a 3.9 GPA. Her ability to balance school work and athletics started years before her time at Kamiakin.
"I kind of got it from home schooling. I would do two-a-days and then just fit school in where I could. So that kind of just rolled over into high school."
As Winstead prepares for her final round of competitions as a high school gymnast, Coach Everrett reflects on how influential she has been on this Braves' team. Winstead's next chance to leave it all on the floor will be the this weekend at regionals. From there, she hopes to to punch her ticket back to state.
"She's very graceful on the floor. She's very smooth at everything that she does. She's just a great role model for the rest of the girls."