Active landslide at Mission Ridge being monitored
Posted:
Updated: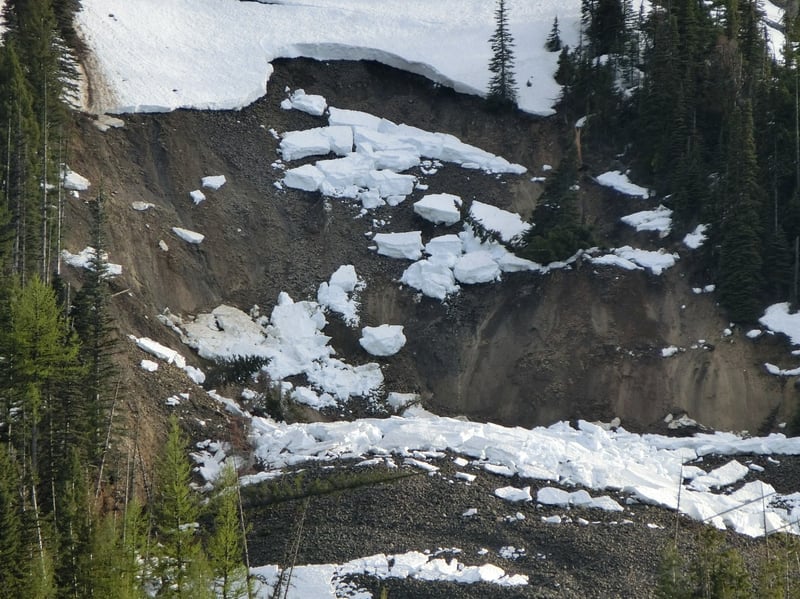 Landslide at Mission Ridge
WENATCHEE, WA - The Okanogan-Wenatchee National Forest (OWNF), the Washington Department of Fish and Wildlife (WDFW), and Mission Ridge Ski Area are jointly working on a landslide above the base area at Mission Ridge.
The slide happened on a part of WDFW's Colockum Wildlife Area that is leased to the ski area, with a small percentage of the slide crossing over onto U.S. Forest Service lands.
WDFW has closed the active slide area of about 100 acres for public safety concerns. The closed area is signed "closed", areas not marked with signage and without indication of recent earth movement are presumed to be open. The active slide area starts immediately west of the main ski lodge and crosses the Mimi ski run, with the front-most portion of the slide near Squilchuck Creek, upstream from the lodge parking lot. The slide is considered "active" which means additional movement could potentially occur. Geologists from the WDFW Capital and Asset Management Program (CAMP) will be onsite within the week to assess the initial damage and determine next steps.
"Fortunately, no one was injured in this slide," said WDFW Northcentral Regional Director, Jim Brown. "The closure is meant to keep everyone safe if movement continues."
Forest Service and WDFW officials are monitoring a culvert at the end of the slide path for potential future impacts. The Forest Service is asking that the public respect the WDFW closure and maintain a safe and appropriate distance from the slide path and the affected base area and adjacent ski run.
"We will continue to work with our partner agency and Mission Ridge Ski Area to provide recreational access to the surrounding area," stated Jeff Rivera, Wenatchee River District Ranger. "Public safety, resource and infrastructure impacts continue to be top priorities as we gain more insight into the status of the situation."
The seasonal closure of both base-area parking gates is in effect. Currently, there are no closures in effect on Forest Service lands in the Mission Ridge area. Members of the public wishing to access Forest Service land may park on the side of the road outside of the gated parking areas near Squilchuck Trailhead. From there, users may access the Clara and Marion Lakes area.
"Mission Ridge would like to reassure all of our skiers and riders that no property or infrastructure was damaged as a result of this natural occurrence, said Tony Hickok, Marketing Director of Mission Ridge Ski Area. "We do not believe that this event will have a negative impact on our summer maintenance plans as we prepare for what forecasts are suggesting will be another awesome season."