UPDATE: Evacuation orders lifted for residents in Mosier, Oregon
Posted:
Updated: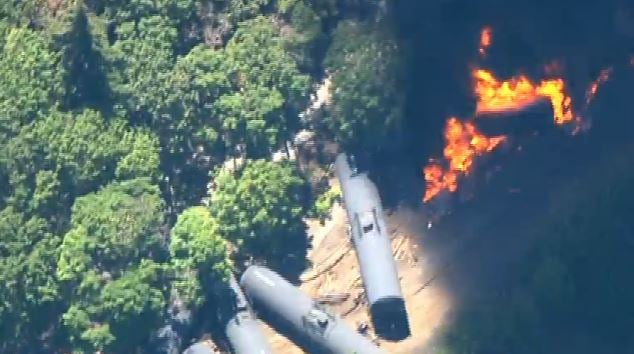 MOSIER, OREGON - Dozens of residents of an Oregon town have been given the all clear to return home, after crews made progress in repairing damage caused by the derailment of an oil train that sparked a fire.

About a hundred people - a quarter of Mosier's population - were evacuated Friday after several cars carrying the volatile oil went off the tracks.

But officials said late Sunday night that the evacuation order had been lifted because of progress in cleaning up the derailment and restoring essential services, including a waste water treatment plant.

A statement by incident spokeswoman Judy Smith of the U.S. Environmental Protection Agency said 10,000 gallons of oil had been removed from the plant. Smith said water and sewer services were usable, but a boil water order was in effect.
UPDATE SUNDAY JUNE 5TH-
MOSIER, OREGON- An official with Union Pacific Railroad says some kind of track failure is likely to blame for the oil train derailment in the Columbia River Gorge on Friday.
The company is now focused on removing the crude oil from the damaged cars as safely and as quickly as possible. 100 people have been evacuated from their homes since the crash and fire.
The city of Mosier's essential services are offline as a result as well.
UPDATE SATURDAY JUNE 4TH-
MOSIER, OREGON- Investigators found the Mosier waste water treatment plant and sewer lines are not operation as a result of Friday's derailment and fire.
Fourteen oil cars derailed in the scenic Columbia River Gorge and four cars caught fire. Firefighters extinguished the fire that sent large black plumes of smoke into the air, wrapping up around 2 a.m. Saturday.
Environmental crews found a light sheen of oil about six feet offshore in the river at the mouth of Rock Creek. Crews also plan to remove rail cars from the site but they are waiting for them to cool off.

Interstate 84 has since reopened and about a hundred people living nearby are still evacuated from their homes. Deputies in Wasco County are patrolling those empty areas.
MOSIER, OR Authorities are reporting a multi-car oil train derailment near Mosier, Oregon with smoke and flames visible near the Rock Creek overpass.
News outlets in the area are reporting Mosier School is under evacuation with students relocating to the Wahtonka campus in The Dalles.
This is a developing story and we will update you when we get additional information confirmed.