Family of AR-15 inventor Eugene Stoner: He didn't intend it for civilians
Posted:
Updated: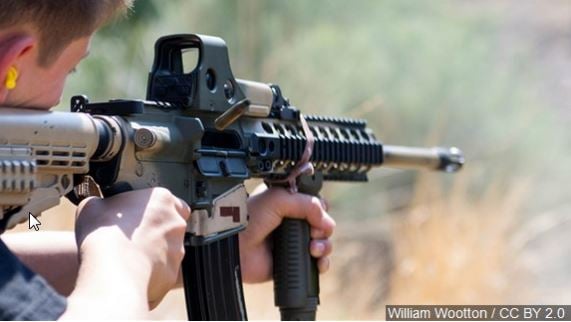 WASHINGTON - The family of the man who created the AR-15 has told NBC News their father would be "horrified and sickened as anyone" about recent mass shootings in America.
"Our father, Eugene Stoner, designed the AR-15 and subsequent M-16 as a military weapon to give our soldiers an advantage over the AK-47," the Stoner family told NBC News late Wednesday. "He died long before any mass shootings occurred. But, we do think he would have been horrified and sickened as anyone, if not more by these events."
Stoner died before the weapon became a popular hit and until now, his family hasn't spoken out. Stoner's surviving children and adult grandchildren spoke exclusively to NBC News by phone and email, commenting for the first time on their family's uneasy legacy. The family requested individual anonymity in order to speak freely about the topic and also stopped short of policy prescriptions or legal opinions.
RELATED: PHOTOS: Remembering the victims of the Orlando Shooting
Stoner's family said he was an ex-marine and "avid sportsman, hunter and skeet shooter" and would have "never used his invention for sport." They also said he never kept one around the house for personal defense, even going so far as to say he never even owned an AR-15.
"After many conversations with him, we feel his intent was that he designed it as a military rifle," his family said to NBC, explaining that Stoner was "focused on making the most efficient and superior rifle possible for the military."
Stoner designed the original AR-15 in the late 1950s in his own garage, and later as the chief designer for ArmaLite. Stoner made the weapon light and powerful, then fashioned a new bullet for it --- a .223 caliber round capable of piercing a metal helmet at 500 yards. The Army was happy with the weapon and renamed it the M16.
Stoner died nearly 20 years ago in 1997 at the age of 74, and after his death a semi-automatic version of the AR-15 became a bestseller for civilians. Its popularity has spawned the nickname "America's Rifle" from the National Rifle Association.
Officials say the bullets used in the Pulse shooting in Orlando were Stoner's .223 rounds fired from an AR-15 spin-off made by Sig Sauer.
"What has happened, good or bad, since his patents have expired is a result of our free market system," Stoner's family said to NBC. "Currently, a more interesting question is 'Who now is benefiting from the manufacturing and sales of AR-15s, and for what uses?'"
According to NBC News, an AR-15 style rifle has been used in at least 10 recent mass shootings, including ?Sandy Hook Elementary in Connecticut, a movie theater in Colorado, and a work party in San Bernardino.