Weekend Snow and Freezing Rain
Posted:
Updated:
Posted by Monty Webb, Meteorologist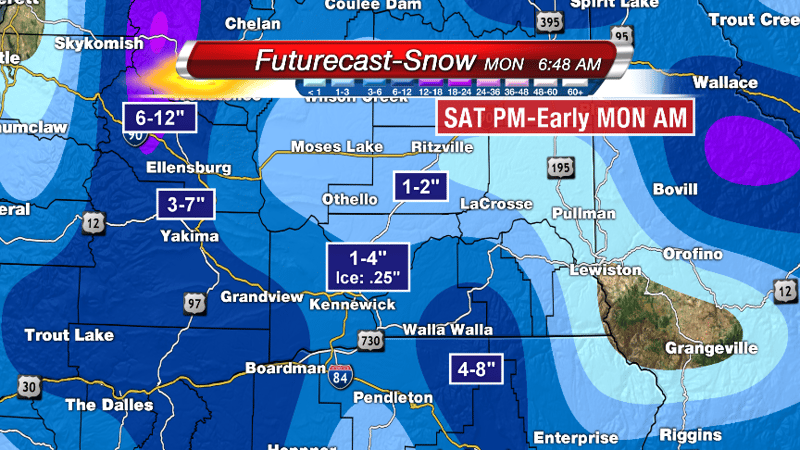 "Never Ending" Winter Continues
Arctic air has provided us with extremely cold temperatures this week - Yesterday Pasco, WA had a record low of 8 degrees below zero and Meacham, OR had a low of -28! This Arctic air will set the stage for another round of wintry weather this weekend... Snow, Sleet, Freezing Rain and Rain!
The Set-Up
Two separate storms will impact the region this weekend.
Storm #1 will arrive Saturday afternoon and will produce light snow until around 10 PM. The GFS is showing cold air at the surface and aloft, resulting in just snow (see below maps). It looks like we should get at least a 6-8 hour break in the weather overnight Saturday-Sunday morning.
Storm #2 arrives Sunday morning after 6 AM and this is where the forecasting becomes tricky as warmer moist air begins to over run the cold air at the surface. This set-up has the potential to produce significant icing in the Columbia Basin-Foothills. The precipitation will start off as all snow with temperatures below freezing at the surface and aloft.
The snow will transition into freezing rain around 10 AM Sunday as warmer air (above freezing) aloft moves north into the Columbia Basin and Foothills. However, temperatures aloft will remain below freezing in the Yakima/Kittitas Valley resulting in snow all day (see maps below).
Timing Break Down
Saturday 4-10 PM: Light Snow (Storm #1)
Sunday After 6 AM: Snow (Storm #2)
Sunday Around 10s: Freezing Rain - Columbia Basin into the Foothills
All Day Sunday: Snow - Yakima and Kittitas Valleys
How Much Snow and Ice
This is a very difficult forecast and there still remains some uncertainty with timing, precipitation type and accumulation. The bottom line... This storm does have the potential to create major travel issues across the region on Sunday. Note: These totals are not set in stone...
Yakima/Kittitas Valleys: Snow: 3-7"
Tri-Cities-Foothills: Snow: 1-3"; Ice: .25"
East Slopes: Snow: 6-12"
Blues: 4-8"