Emergency Management stresses the dangers of hiking on ridge; flying drones
Posted:
Updated: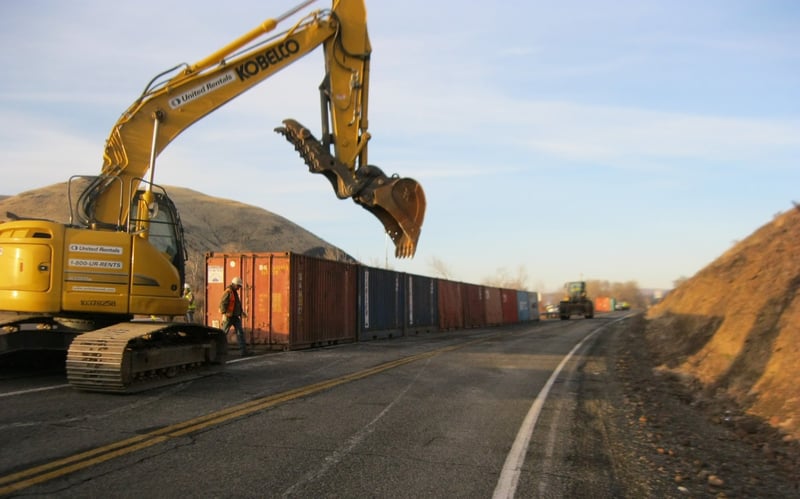 Contractor crews install freight containers along Thorp Road as a precautionary measure to keep rocks from hitting I-82 east of Yakima.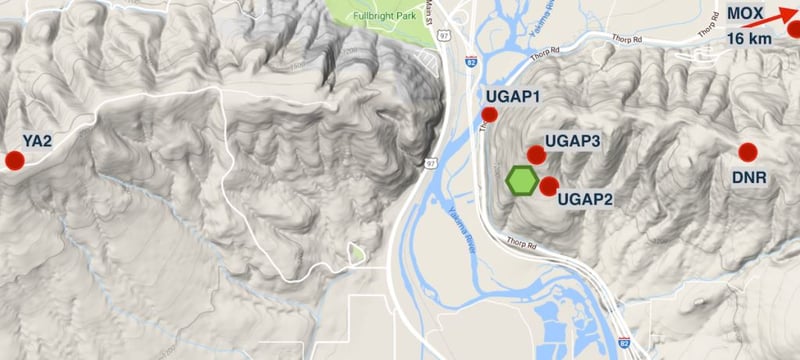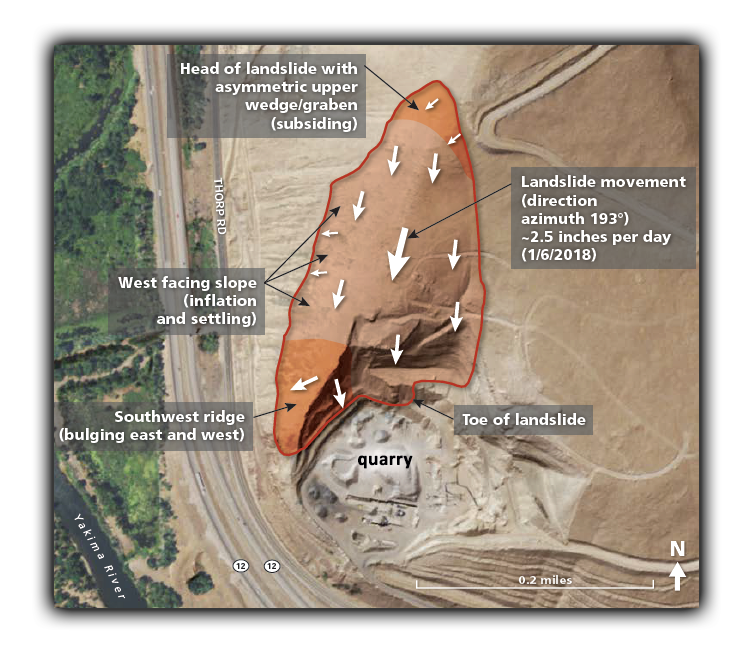 Courtesy: Yakima Valley Office of Emergency Management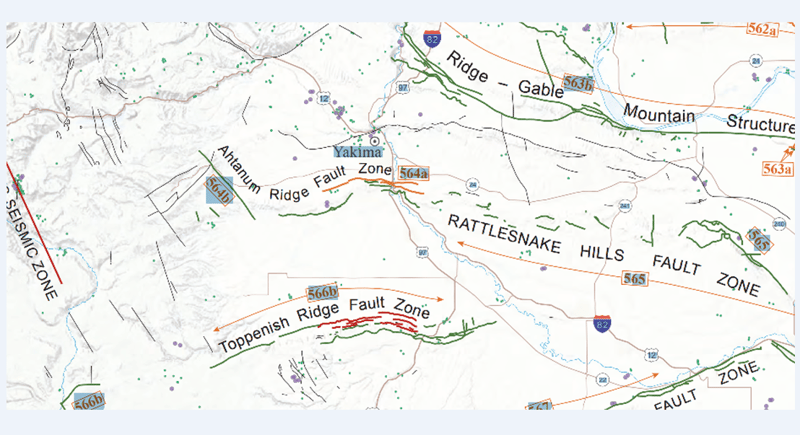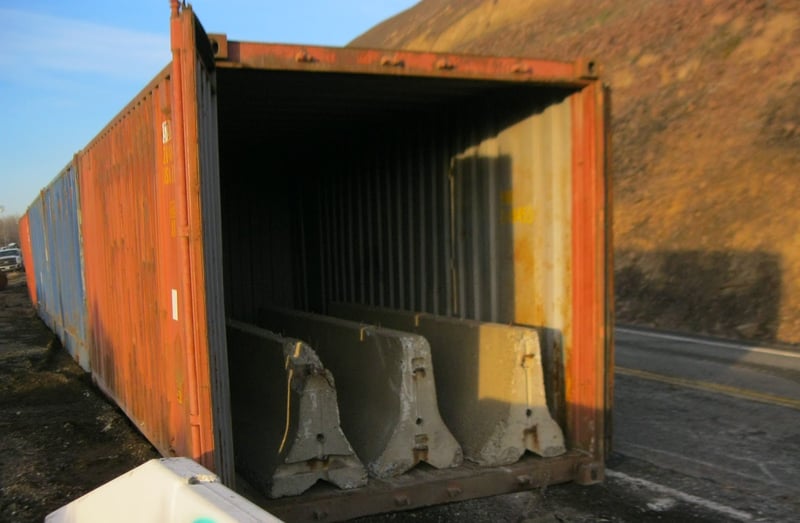 In order to weigh down the freight container, a concrete barrier is placed inside of each container.
***Slideshow of ridge pictures below story***
1-22-18 UPDATE:
Evacuees worry about the state of their rented property
YAKIMA, WA - Emergency Management held another press briefing today in Yakima.
A statement was read on behalf of Columbia Asphalt and Gravel, saying their primary concern is the safety of their neighbors.
Emergency Management said they met with the company earlier this week to discuss details regarding the landslide and the evacuees impacted. They said Columbia is in discussions with the landowner next to the quarry to secure the site and arrive at a mutual assurance that the homes will stay unoccupied.
When asked if Columbia will keep the promise they made to evacuees about paying rent for the trailer homes evacuees were living in, here's what they had to say.
"When I talked to Columbia, they said they are working with the lD...a few different items and that was one of them," said Jeff Emmons with EM. "I do not know what those discussions entail or what the outcome is."
When informed that evacuees are worried about receiving a lawsuit from the landowner for not paying rent, Emmons said that for any residents feeling this way, they can seek legal advice from Northwest Project Justice.
----------------------------
1-19-18 UPDATE:
Emergency Management stresses the dangers of hiking on ridge; flying drones
During today's briefing, Emergency Management also talked about the problems trespassers are causing and why they do not want drones to fly over the area. While many people have been doing what they can to stay away from the landslide, EM is having issues with some who are doing the exact opposite.
"We've seen some pictures and videos...there's some videos from last weekend of people hiking on the landslide, riding bikes on the landslide," Emmons said.
At the very least, that brings about an issue of trespassing.
"Being within the hazard area of the landslide is private property."
But more importantly, it's a safety hazard for those on the land, and for those waiting for it to fall.
"All the additional activity can interfere with the monitoring date that DNR is using, and we're relying upon to get this predicted outcome," explained Emmons.
As far as interference goes, another issue officials are coming across is that of unregistered drones.
"95 percent of our aircraft that arrive at the Yakima air terminal, whether it be commercial, general, aviation, or corporate, come from the east of the Valley. So essentially they are flying over the sight of the potential landslide."
Make sure you check with the FAA before flying a drone in the area...not just because of the danger it could cause right now, but also because of the danger that could be ahead of us.
"If this comes down to a catastrophic event, and we need to airlift someone from the scene, we can't do that because of the drones," said Emmons. "Because they're so small, pilots can't see them; there's all those risks."
Another interesting piece of information that came out of this meeting was that the third-party geologist from Wyllie & Norrish already did a survey of the site. It'll take two weeks for their conclusions to come back.
----------------------------
1-18-18 UPDATE:
Evacuated families of the ridge worry about future housing
UNION GAP, WA - Today, families who lived near the ridge received the help they have been asking for, and are a step closer to finding a permanent home.
The families were able to start filling out paperwork so that organizations can help them find affordable housing.
Residents impacted by the Rattlesnake Ridge landslide have been staying in hotels, paid by Columbia Asphalt and Gravel. They were all granted a five-week stay, but with only three weeks left, residents want to find a permanent home.
"It's stressful being here in a hotel because we are used to being in our home," said Adela Ramirez, an evacuee.
Today, Emergency Management met with the residents and introduced them to several organizations that will help them find a home. One resident shared with us the help they are being offered.
"They will help with the first month's rent and the deposit and other stuff as well," said evacuee Lina Ortiz. "Also, the people that have animals, they will either have to leave their animals or find a place that has land."
Residents were told there is only housing in Yakima for the moment. This puts residents like Adela Ramirez in a tough situation.
"We would prefer living in Wapato because we have everything we need," she said. "There's like our jobs and my son's school."
Aside from figuring out their living situation, Ramirez says she and other residents are still waiting for Columbia Asphalt and Gravel to fulfill the promises they made.
"Our worries are that Colombia said they were going to pay our rent for the trailer homes were we were living in, and until now we know that they have not paid it," said Ramirez.
Ramirez says this is her biggest worry, because the last thing she wants is to be sued by the owner of the trailer homes for not paying rent.
Tomorrow, Emergency Management will be having another briefing, which will focus on meetings officials have had with Columbia Asphalt earlier this week.
----------------------------
1-17-18 UPDATE:
Second, private consulting company to take samples and weigh in on Rattlesnake Ridge
UNION GAP, WA - The crack on Rattlesnake Ridge continues to grow every week, so the more eyes on it, the better. The state just brought in another consulting company to take a look.
When Governor Jay Inslee visited Rattlesnake Ridge just over a week ago, he suggested that the state should hire a private consulting company. This comes after some people in the community voiced their concerns about there possibly being a one-sided opinion with the current consulting company. Columbia Asphalt is the owner of the quarry, and once this all started happening, they hired their own company, Cornforth Consultants, to take a look.
To avoid any biased opinions, the state brought in Wyllie and Norrish Rock Engineers out of Seattle. Basically, the governor wants another set of eyes on Rattlesnake Ridge.
The Seattle company is going to take two to three weeks to take samples of materials up on the ridge and put together a report of any new findings. As of right now, there have been no significant changes as the crack still moves at 1.6 feet a week.
----------------------------
1-16-18 UPDATE:
Tuesday's briefing covers ridge hikers, drones, and an emergency alert system
UNION GAP, WA - Today, another briefing took place in Union Gap regarding the Rattlesnake Ridge landslide. Emergency Management stated there have been no significant changes, and that the fissure continues to move at 1.6 feet per week.
Yakima Sheriff's did say there have been reports of people hiking on the ridge, which is not okay due to it being an active landslide and private property.
The department also advised drone pilots to check with the FAA before flying over the fissure because the Yakima Airport is just five miles away. Failure to do this can have drone pilots facing a misdemeanor with subject to arrest.
Emergency Management also mentioned the system they have in place to send out notifications, and how it is not likely for an accidental notification to be sent out like the one many received in Hawaii this weekend.
"To prevent accidental alerts from being issued here in Yakima County, the software system we use requires us to manually enter key codes in before the message goes out," said Jeff Emmons, director of OEM.
Emmons also added that the system allows a new message to be sent out within minutes, in case a new one needs created.
Anyone can sign up to receive these "Alert Yakima" notifications by visiting this website: https://member.everbridge.net/index/453003085612758#/signup
----------------------------
1-11-18 UPDATE:
DOT watching hillside with cameras, encourages people to pack emergency kits
UNION GAP, WA - With the uncertainty of when the Rattlesnake Ridge landslide could happen, the Washington State Department of Transportation is constantly checking on the conditions of the ridge.
If you're anywhere near the ridge at night, including driving on I-82, you'll see parts of the hillside lit up by huge floodlights. Those lights and some cameras are helping DOT watch if any dirt or rocks come down the ridge.
DOT has installed two cameras to monitor the hillside and Thorp Road. There are also at least three cameras that Columbia Asphalt, the mining company of the quarry at the end of Rattlesnake Ridge, has put up as well.
Officials are monitoring the ridge with seismometers and GPS, but DOT says the cameras just give them an extra tool to be able to see what is actually happening.
DOT engineers are watching the cameras from their traffic management center.
"So these cameras are not available to the public; super low bandwidth," said Lisa Van Cise, Joint Information Center spokesperson. "So it's basically just kind of a quick and dirty tool to just have eyes on that hillside."
Earlier today, the Yakima Valley Office of Emergency Management put up a brochure on their Facebook page with essential things everyone should put in an emergency kit, and not just for those living near Rattlesnake Ridge.
The post says in part, "Are you ready for severe weather, an earthquake or power outage? It is important to have an emergency kit ready to go."
Emergency kits should have at least two weeks' worth of supplies, including things like gallons of water, warm clothes, and canned food.
Click this link to see what other things experts suggest should be in your emergency kit: https://mil.wa.gov/uploads/pdf/Publications/be-prepared-brochure.pdf
----------------------------
1-10-18 UPDATE:
Emergency Management holds media briefing on Rattlesnake Ridge updates
UNION GAP, WA - As cracks along Rattlesnake Ridge continue to get bigger, officials know that parts of it are going to collapse...but the question is when.
On Wednesday morning, the Office of Emergency Management held a media briefing at their headquarters in Union Gap. Officials say they are working on an emergency coordination center to get information about Rattlesnake Ridge from the experts to the public better.
Earlier in the day, the City of Union Gap and Yakima County declared a disaster on the slide that is still moving at about 1.6 feet per week. The declaration allows officials to request any help they will need when that part of Rattlesnake Ridge does come down.
Projections of a timeline for when that would happen keep changing in large partly because of technical data that's coming in from multiple seismometers and GPS monitoring sites on the ridge.
Bottom line, experts say this landslide could happen at any time. It could be tomorrow...or it might not happen until March.
"We've noticed that the landslide is accelerating, but accelerating at a lower rate," said Steven Slaughter with the Washington Geological Survey and Department of Natural Resources. "The window of failure has moved into March now because it's decelerating a little tiny bit, but still at about 1.6 feet per week. The landslide is still moving south and we still are expecting it to fall in that direction."
The Office of Emergency Management says they're working with numerous agencies to ensure public safety, and that they are prepared to take action when the landslide happens.
A major concern during this whole thing has been I-82. It's still open because WSDOT says the movement is not sufficient enough to be a concern. But if they hear from their own geologists or the DNR that it is not safe, they will shut down the highway.
Local woman provides a foster home for several dogs in evacuation zone
UNION GAP, WA - Today, we had the chance to speak with one of the volunteers fostering some of the animals that have been evacuated from the ridge area.
Shelley Cort is just one of a few who have opened their homes to animals evacuated from homes near Rattlesnake Ridge. She says she found out the pets needed foster homes through Facebook and quickly called Emergency Management. She has one dog and was supposed to receive five more by today.
Cort says she doesn't mind fostering dogs because she's been doing it for over 15 years, and was not about to stand by during this time of need.
"I guess the biggest thing is these dogs don't have a voice, and a lot of the dogs that we get have been abandoned and alone," Cort said. "And for me it's just a way to give back and to watch them flourish and go on to a better life."
Cort says she can only accept six dogs, but hopes other volunteers will step up if more help is needed.
Emergency Management has also informed us of another woman fostering 55 chickens and 6 dogs.
Local geologist gives updated input on ridge
UNION GAP, WA - Emergency Management crews have been working around the clock to be as transparent as possible when it comes to Rattlesnake Ridge. But they're not working alone. We spoke with a local geologist today and found out more about the movement.
One of the latest graphics shows us that part of Rattlesnake Ridge is moving south towards the quarry, but also west towards Thorp Road.
Dr. Stephen Reidel, a local geologist, has been monitoring the movement on Rattlesnake Ridge since October. He along with consultants have been tracking the movement on a daily basis by using highly sensitive GPS systems.
According to the GPS systems, Rattlesnake Ridge is moving at a rate of a foot and a half a week.
"When the basalt slides, it's going to slide as blocks," said Dr. Reidel. "I kind of suspect is what you're going to see is blocks anywhere from the size of maybe a Volkswagen down to the size of maybe a baseball."
But don't worry yet - consultants theorize that there's enough room in the quarry to absorb all of the rock. Right now, the big question is: is it all going to fit into the quarry - which would be the best-case scenario - or will it move towards Thorp Road?
Right now, it's just a waiting game.
If you want to find out all of the latest information about Rattlesnake Ridge, you can check out Washington State's Department of Natural Resources website here: https://www.dnr.wa.gov/rattlesnake-hills-landslide
----------------------------
1-9-18 UPDATE:
Animals in evacuation area relocated to shelters
UNION GAP, WA - Now that many residents have evacuated, Emergency Management is working on moving all of the animals. They are working quickly to safely relocate all animals out of the evacuation area and into shelters.
So far, Emergency Management has transported 2 horses, 12 dogs, 2 turkeys, and 65 chickens...and they say there are still more animals that need to be rescued.
The goal is to rescue as many animals as possible, which is why both Emergency Management and The Red Cross are working together to gather any pet information.
As of now, they estimate that there are close to 35 chickens remaining in the area.
Emergency Management says they are surprised by the amount of foster homes and shelters accepting all of the animals.
"We are doing this for the residents so they don't have to come back here and feed their animals, because it is a safety issue for them and also it's a safety issue for their pets as well," said Lisa Truhlicka, administrative assistant for Emergency Management.
The animals will just be in shelters temporarily while residents are staying in hotels. They can get their animals back once they have found a permanent residence.
----------------------------
1-8-18 UPDATE:
Seismometers and GPS systems set up along the ridge
UNION GAP, WA - Rattlesnake Ridge developments continue to roll out every day. Most recently, we learned about seismometers tracking every move the crack makes.
They show every movement happening on the ridge and around it. The seismometers were placed in three locations on the hill, as shown in the map provided in the slideshow at the bottom of this webpage. The map was provided by the Pacific Northwest Seismic Network, the organization tracking the frequencies.
The green dot gives you an estimate on where on the ridge each is located.
Since the monitors have been installed, graphs like the one in the slideshow have been displaying the frequencies they pick up. Most of them show high frequencies at times, but after a closer look, PNSN says some of those frequencies come from trains, helicopters, and even cars.
PNSN has made arrangements to better detect the frequencies related to the fissure and plan on sharing any movement detected on their website.
Aside from these monitors, multiple GPS systems have been located along the ridge as seen on Yakima Valley Office of Emergency Management's Facebook page.
----------------------------
1-7-18 UPDATE:
Governor Jay Inslee visits Rattlesnake Ridge site
UNION GAP, WA.-- On Sunday, Governor Jay Inslee took the trip to Yakima County to visit the Rattlesnake Ridge site and hear from the geologists working on it. Here are some of the takeaways from Governor Inslee's visit:
- The Governor was impressed by the number of redundant systems that are helping to monitor the fissure. Redundant here is actually a good thing- you can never be too safe or too accurate in a situation like this.
- Those systems include LIDAR (a laser-based system) and seismometers, both of which can help detect ground movement and measure the acceleration of that movement. These systems are checked every hour, and they will help determine when it will be time to close I-82.
- When that time comes, WSDOT already has plans for detour routes in place. One of them will use Highway 97, and the other will go through Vernita.
- Explosives are out of the question. Governor Inslee says that based on the geologists' findings, demolishing the ridge with explosives would be too unpredictable, and therefore, too dangerous.
- Governor Inslee thought the two geologists on site have done a fantastic job so far. However, he is hoping to bring in a third, unaffiliated geologist to take a look at the ridge for the purpose of confirming the findings of the first two.
- Based on what he learned, Governor Inslee says that due to the geological makeup of the ridge, the slide that's happening is very different from the fatal Oso landslide that happened in 2014.
Getting ready to evacuate in case of emergency
UNION GAP, WA - If you ever need to evacuate for any reason it's important be prepared. Here's a list of some supplies you should have ready:
• Clothing for your family for several days
• Bedding, pillows, and towels
• Prescription medicines & spare eyeglasses
• Soap and toiletries
• Baby food and diapers
• Your address book or list of important telephone numbers
• Your checkbook, credit/debit cards, and cash
• Your driver's license and identification cards
• A portable radio and flashlight.
You should also:
• Gather suitcases, boxes, or bags to hold your emergency supplies.
• Be prepared to secure your home or office and your property before you depart.
• Ensure your car is in good shape and you have adequate fuel.
• Decide where you will go if you have to evacuate. Make arrangements with relatives or friends or consider making hotel or motel reservations.
----------------------------
1-5-18 UPDATE:
Emergency Management gives update on Rattlesnake Ridge progress
UNION GAP, WA - Today we learned that more rocks are coming down from the hillside, mostly the size of basketballs. Crews have finished placing 44 freight containers along Thorp Road to stop debris from reaching I-82.
Experts tells us the ridge is moving about 2.5-3.5 inches a day, meaning it's likely to come down by the end of next month.
Horace Ward of Yakima Valley Emergency Management says doing a controlled demolition of the hillside would be dangerous for the public.
Ward says the contractor surveying Rattlesnake Ridge reported back to them that the amount of land is just too much of a hazard for the amount of land that would be involved in a controlled demolition...so even though that may seem like the easiest and quickest solution, it's simply out of the question.
"To put it blunt, it's a large safety risk," Ward said. "It's a lot of mass to try to use explosives. In their expertise, they do not advise it."
Ward says his office has been working closely with DOT to monitor the activity on the ridge in case I-82 needs to be closed to traffic, but he says at least right now that's not the case and I-82 is safe to drive on when going through Union Gap.
Ridge residents may be evacuated for more than a month
It could be more than a month before people living at the base of Rattlesnake Ridge can return home.
Since last night, residents have been staying at the Super 8 Motel in Union Gap, and they are finally getting the help they need.
"What we are providing is a little bit of a stop gap service while they are placed in a motel, to give them some allowance for food and other necessities," said Cody Tussler, Disaster Program Specialist.
Thursday night, residents attended a meeting where Yakima County, Washington State, The American Red Cross, and Columbia Asphalt and Gravel provided residents information of benefits they can receive.
Columbia Asphalt and Gravel is providing evacuees with five weeks in a hotel.
"In the meantime, the state and county and other partnering agencies are going to develop a plan to help get these people permanent long-term housing," Tussler said.
The Red Cross has also provided evacuees with money for food and medicine. All of this has residents feeling very thankful.
"I am happy because...well, you saw how we were," said Alma Ojeda Nieto, a Rattlesnake Ridge resident. "We were all in one house, then in another one, at least now we have [some]where to sleep."
Tussler says The Red Cross, along with other organizations, are helping the evacuees avoid the worst.
"Evacuations are put in place because we don't want a repeat of Oso. We don't want there not to be any notice and all of a sudden have lives lost."
Quarry engineer predicts amount of landslide debris
Today we spoke with the engineer hired by the nearby quarry to get his latest predictions.
Senior Associate Engineer with Cornforth Consultants, George Machan, tells us the slide is still moving fairly slowly - about 2.5 to 3.5 inches per day. He says it's hard to predict exactly when the mountainside will come down, but he expects it to happen sometime by the end of the month.
Machan says the total volume of the hillside is about 4 million cubic yards, and he estimates about a million of that could end up in either the quarry, on Thorp Road, or on I-82.
To put this in perspective, that's enough to fill about 300 Olympic-sized swimming pools.
But it's not all bad news - he believes the majority of that will likely end up in the quarry, and some will probably make its way onto Thorp Road.
But as far as impacting I-82?
It's possible debris could overwhelm the freight car barricade set up by DOT, but he says at this point that is a low-risk scenario.
Of course, all of these are just predictions based on what experts know right now, and all of that could very easily change.
-------------------------------------
1-4-18 UPDATE:
Thorp Road residents urged to evacuate after recent ground shift
UNION GAP, WA - Residents near Rattlesnake Ridge are now being evacuated because of its instability.
"It's devastating knowing that there is a mountain that can be falling on top of us and we have nowhere to go," said Jesus Martinez, an evacuated resident.
The Martinez family is getting out of the way of Rattlesnake Ridge...a sudden safety threat to them and a couple dozen families being evacuated out of homes along Thorp Road located between Rattlesnake Ridge and I-82.
When asked if he would stay if he could...
"No, no, no I'm out of here, I'm out of here," Antonio said. "I tried to pack most of my stuff and move my cars, that's it."
And is risking staying worth it?
"Nope. It's not worth it. It's my family. It's my life. I don't want to stay no more here."
"Not worth it at all," said Jesus Martinez. "We have all our property, all of our sofas, couches, all of our furniture, and of course if this is to come down, we're going to lose all that, so we'd rather be safe and move out before something worse happens."
Antonio's son Jesus says the safety of their family is more important than risking it in their home, so today they're loading up their possessions, their memories, their lives, and heading for safer ground: the evacuation center at Summit View Church of Christ in Yakima.
"For tonight or a few days until we find something, because it's hard to find a rental over here," Antonio said. "I've already tried for three, four days. There's nothing, nothing the size I need for my family. Everything they have around is a one-bedroom, two-bedroom, and I need at least a four-bedroom for my family."
WSDOT article regarding the Rattlesnake Ridge land movement
"Interstate 82 remains open but safety measures being put in place

"By Summer Derrey and Meagan Lott

"A slow-moving landslide east of Yakima has put many on high alert, including drivers traveling along I-82 adjacent to the landslide. There are several agencies working together to investigate, research and plan for this situation, and each has specific roles in preparing for the slide.

"Our job is to protect the highway and make our best effort to help motorists avoid any obstacles on it. As the landslide moves, rocks could potentially fall onto the roadway. So far we have not seen any debris reach I-82. At the first sign of more movement or increased frequency of falling rock, we will close the highway. However, when dealing with Mother Nature, it's hard to predict when this may occur. This is why we are working with local agencies as well as our crews to keep an eye on it.
"Should you take alternate routes right now?
We would close the highway if we felt it was unsafe. At this time those monitoring the situation have deemed the highway safe for travel and many of us are continuing to use it for our commutes. That said, everyone should make their own decision.

"What would be the detour route?
If I-82 closes, several detours will be established. The local highway detour will be along US 97 from Granger to Union Gap and I-82 would be closed from milepost 58 to 37 until officials determine it is again safe for travel. Also, depending on the amount of debris that comes down, it's possible that just the westbound section of I-82 would be temporarily routed along US 97. We're preparing for all possibilities at this point.
"What is WSDOT doing?
We are taking proactive steps to minimize impact to the highway and to drivers, including:
Placing portable signs along I-82 to caution drivers of the potential for rockfall. So far, no rocks have fallen onto I-82, but we are monitoring the area closely.

This week, our crews are installing a number of large conex/freight containers between Thorp Road and I-82 to provide rock-fall protection. Although each box weighs six tons, it won't stop a landslide, but will protect against rocks.

At the first sign of excessive movement or increased frequency of rockfall, I-82 will shut down as a precaution and traffic will be diverted to the detour routes.
"Where can you get information on the landslide activity?
You can view updates on the Yakima Valley Office of Emergency Management webpage and Facebook account. You can also call their office at 509-574-1900 and choose option 1.

"While there are certainly a lot of unknowns with this landslide issue, multiple agencies with the appropriate expertise are working to monitor and prepare for all situations with public safety as our number one priority."
-------------------------------------
1-3-18 UPDATE:
Evacuation in place for residents near Rattlesnake Ridge, but some refuse to leave
YAKIMA, WA - Right now there is a level 3 evacuation for people who live near that area of Rattlesnake Ridge, but some people are refusing to leave.
We spoke with one woman who says she hasn't left because she's sick. Alma Ojeda Nieto is one of many residents living in trailer homes alongside Thorp Road. The level 3 evacuation has been in place since last week, but many still remain in their homes.
Nieto says she has not left because she is sick, and when she heard about the shelter from other neighbors, she was not given an exact location.
"My daughter told me, 'Come with me...I plan on leaving later,' because they said tomorrow they were going to bring it down," Nieto said, referring to Emergency Management who gave her the papers and told her to be out by today.
Due to limited space, Nieto says her husband will stay at their trailer home.
American Red Cross has opened a new shelter at Summit View Church of Christ in Yakima, at 100 North 72nd Avenue, Yakima, WA.
WSU geologist weighs in on Rattlesnake Ridge movement
YAKIMA, WA - Today, we talked with a local geologist who has been up on Rattlesnake Ridge twice in the last three months, observing the changing hillside.
WSU Tri-Cities Adjunct Geology Professor Stephen Reidel says the concern for how serious a situation like the one on Rattlesnake Ridge is depends on the area surrounding the hillside. In this case, he says there's enough activity around Rattlesnake Ridge to be concerned.
"Think of it in terms of hazards," Reidel said. "If this were occurring out in the middle of nowhere, who would care? But since it's so close to the freeway and Thorp Road and Union Gap, then it probably becomes a serious issue."
But what exactly is the serious issue? What's happening on Rattlesnake Ridge?
"It appears to be an old fault, a very old fault, that's been reactivated as now as a bit of a landslide," Reidel explains. "What you're starting to see is parts of the hillside slip and break away due to sliding of that rock on the hillside."
Reidel says he believes there are three potential outcomes for the part of Rattlesnake Ridge that's being affected.
"One is that it just might stabilize in place right now, that's probably a low probability. Another one might be the whole thing would slide away, and if it slid away, it would slide off to the southwest."
He says that's also not likely to happen...so what's his best guess?
"Probably what we're going to see over time is slumping of the hillside, probably bits and pieces, but there could be some fairly large pieces," he says.
Large pieces that could potentially land on Thorp Road or I-82.
And although Reidel says he has no way of knowing what the exact time frame is for Rattlesnake Ridge, he does say one important factor could make the hill slide faster.
"I kind of suspect that as we get into the wetter time of the year, water will get down onto that sediment, it'll be like a nice, greased plane, and we'll start to see pieces slip and slide off of it."
-------------------------------------
1-2-18 UPDATE:
YAKIMA, WA - Emergency Management has been tracking Rattlesnake Ridge movements since October, and they say the ridge has been moving at a subtle pace.
Since October when they first became aware of the ridge's movements, data has shown it has moved from 1 foot a week to 1.4 feet a week now. The movement is shifting in a southern direction towards the quarry.
Geologists have told Emergency Management it will continue to be a slow moving landslide.
"They said that something big could happen within the next month - not talking like a major avalanche kind of landslide, but that rate will increase in the next month sometime," said Horace Ward, senior emergency planner for the Yakima Valley Office of Emergency Management.
Ward says this landslide is very different from the Nile Valley Landslide Yakima saw in 2009, because that one happened instantly and this time they are able to study and take precautions ahead of time.
If movement does pick up, homes located along Thorp Road could be severely impacted.
Emergency Management says the fire that happened during the summer of 2017 did not contribute to the ridge, but actually helped them realize it was there.
We also got the chance to talk to the Washington State Department of Transportation about the changes. They tell us that if the hillside does come tumbling down, they would close a portion of I-82 and put detours in place.
"In the event of any excessive movement along the hillside, the DOT has prepared to close I-82 and implement a detour around US-97," said Summer Derrey, spokesperson for WSDOT.
DOT says they haven't seen any rocks fall onto the highway, but as a precaution they have placed signs along the highway warning drivers to be on the lookout.
They have also installed barriers along the highway to hold off any debris and rocks in case of a landslide.
-------------------------------------
1-1-18 ORIGINAL STORY:
YAKIMA, WA - Rattlesnake Ridge's recent movement has alarmed Emergency Management in Yakima, causing road closures and evacuations.
We first heard about Rattlesnake Ridge in October, and since then, the Department of Natural Resources has stated the cracks have grown.
60 sensors have been placed to measure any movements in the area. Friday evening, two earthquakes were recorded just south of Toppenish, raising concerns of impacts to the ridge.
A geologist stated that the earthquakes had no impact on the ridge, but due to recent falling rocks, Thorp Road between Birchfield Road and Gangl Road has been closed.
Emergency Management believes several families living alongside the mountain can be impacted if a landslide occurs, and have placed a Stage Three evacuation in that area.
American Red Cross opened a shelter at Summit View Church of Christ for those families, but due to no one needing shelter, American Red Cross closed the location. They say they will reopen it if people need it.
Regardless, evacuations are still in place as Emergency Management believes a landslide could occur in the coming weeks.
Roads still remain closed due to Emergency Management finding 10-inch rocks on Thorp Road, and signs on the westbound of Interstate 82 warn drivers of falling rocks.
-------------------------------------
Pacific Northwest Seismic Network web article: https://pnsn.org/blog/2017/12/30/seismic-monitoring-of-a-slow-landslide
Yakima News

Yakima News Today

More>>

Tuesday, November 20 2018 9:35 PM EST

2018-11-21 02:35:41 GMT

Nurses and health care workers at Astria are speaking up.

More >>

Nurses and health care workers at Astria are speaking up.

More >>

Monday, November 19 2018 9:15 AM EST

2018-11-19 14:15:35 GMT

The new tracking system called 'Track-Kit' is helping sexual assault victims anonymously track the status of their sexual assault kits through the use of an added barcode.

More >>

The new tracking system called 'Track-Kit' is helping sexual assault victims anonymously track the status of their sexual assault kits through the use of an added barcode.

More >>

Thursday, November 15 2018 9:28 PM EST

2018-11-16 02:28:57 GMT

YAKIMA, WA – On Wednesday, the United States Marshals Pacific Northwest Violent Offender Task Force (PNVOTF) was working in Yakima trying to locate and arrest 41-year-old Elijio Mendoza. Mendoza was wanted by the Washington State Department of Corrections (WDOC) for Failure to Report. He is a known gang affiliate, who is classified as a High Violent Offender. The PNVOTF had surveillance of a house in south Yakima and tried to arrest Mendoza....

More >>

YAKIMA, WA – On Wednesday, the United States Marshals Pacific Northwest Violent Offender Task Force (PNVOTF) was working in Yakima trying to locate and arrest 41-year-old Elijio Mendoza. Mendoza was wanted by the Washington State Department of Corrections (WDOC) for Failure to Report. He is a known gang affiliate, who is classified as a High Violent Offender. The PNVOTF had surveillance of a house in south Yakima and tried to arrest Mendoza....

More >>

Thursday, November 15 2018 8:44 PM EST

2018-11-16 01:44:59 GMT

KENNEWICK: Good news for all of you bargain shoppers out there, Goodwill is opening a brand new store in Kennewick sometime next year. Thanks to a 3.1 million dollar loan and lots of planning, a very large patch of dirt will be home to a 20,000 square foot Goodwill; half warehouse and processing, half retail. The Kennewick store will be closing, however. You can still say, out with your old couches, TV's and clothing, and *into someone else's hands, just at a different location. ...

More >>

KENNEWICK: Good news for all of you bargain shoppers out there, Goodwill is opening a brand new store in Kennewick sometime next year. Thanks to a 3.1 million dollar loan and lots of planning, a very large patch of dirt will be home to a 20,000 square foot Goodwill; half warehouse and processing, half retail. The Kennewick store will be closing, however. You can still say, out with your old couches, TV's and clothing, and *into someone else's hands, just at a different location. ...

More >>

Thursday, November 15 2018 8:08 PM EST

2018-11-16 01:08:50 GMT

The midterm elections were over a week ago, but more than 15,000 ballots in Yakima still haven't been counted.

More >>

The midterm elections were over a week ago, but more than 15,000 ballots in Yakima still haven't been counted.

More >>

Thursday, November 15 2018 11:59 AM EST

2018-11-15 16:59:57 GMT

An elderly woman died in a mobile home fire on West Washington Avenue in Yakima Wednesday night.

More >>

An elderly woman died in a mobile home fire on West Washington Avenue in Yakima Wednesday night.

More >>

Thursday, November 15 2018 6:58 AM EST

2018-11-15 11:58:17 GMT

Several gun shops around Eastern Washington have seen a dramatic increase in gun sales and confused gun owners looking for clarification on the new initiative.

More >>

Several gun shops around Eastern Washington have seen a dramatic increase in gun sales and confused gun owners looking for clarification on the new initiative.

More >>

Wednesday, November 14 2018 9:15 PM EST

2018-11-15 02:15:44 GMT

RICHLAND, WA- Pacific Northwest National Laboratory has created a new device called 'VitalTag.'

More >>

RICHLAND, WA- Pacific Northwest National Laboratory has created a new device called 'VitalTag.'

More >>

Wednesday, November 14 2018 1:25 PM EST

2018-11-14 18:25:42 GMT

The university is paying tribute to the ancestry and traditions of the Yakima Nation & all Native Americans. All events are free and open to the public.

More >>

The university is paying tribute to the ancestry and traditions of the Yakima Nation & all Native Americans. All events are free and open to the public.

More >>

Wednesday, November 14 2018 1:24 PM EST

2018-11-14 18:24:53 GMT

The California fires have impacted thousands of families.

More >>

The California fires have impacted thousands of families.

More >>