Tri-City Hydro Races will be Broadcast LIVE!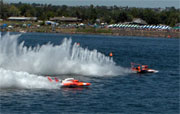 For the first time in history, the Water Follies final day of hydroplane racing will be broadcast LIVE in its entirety.
KNDO/KNDU and the Tri-Cities Water Follies have entered into a multi-year agreement to carry LIVE coverage of the racing. The race will also be simulcast in a LIVE stream over the internet for viewers around the country - the first time any hydroplane race has been broadcast LIVE on the internet.
KNDU-TV is the Official Station for Water Follies and Columbia Cup racing. In the past, KNDU has broadcast LIVE throughout race weekend, starting with LIVE coverage of Friday's "Dash for Cash" race. Starting in 2006, this LIVE coverage will extend to the final heats and culminating in the championship race.
Race day coverage will be simulcast on KNDO-TV in Yakima, WA and KNDU-TV in the Tri-Cities, WA. Live streaming broadcasts will be available at KNDO.com and KNDU.com. To produce the coverage,we'll be using our 50-foot network sports production truck from SpokaneSports Television. This truck is used to produce Gonzaga basketball games throughout the Northwest for Fox Sports Northwest, KHQ-TV, and KAYU-TV. In the past, the production truck has been used for ESPN and Fox network sports and is available for rent.
Coverage will feature 10 LIVE cameras along the course and utilize multiple slow-motion instant replay machines to capture all the action on the Columbia River.